2014-2015 Concerts
Arvo Pärt PASSIO and Gerald Finzi LO, THE FULL, FINAL SACRIFICE concert,

March 2014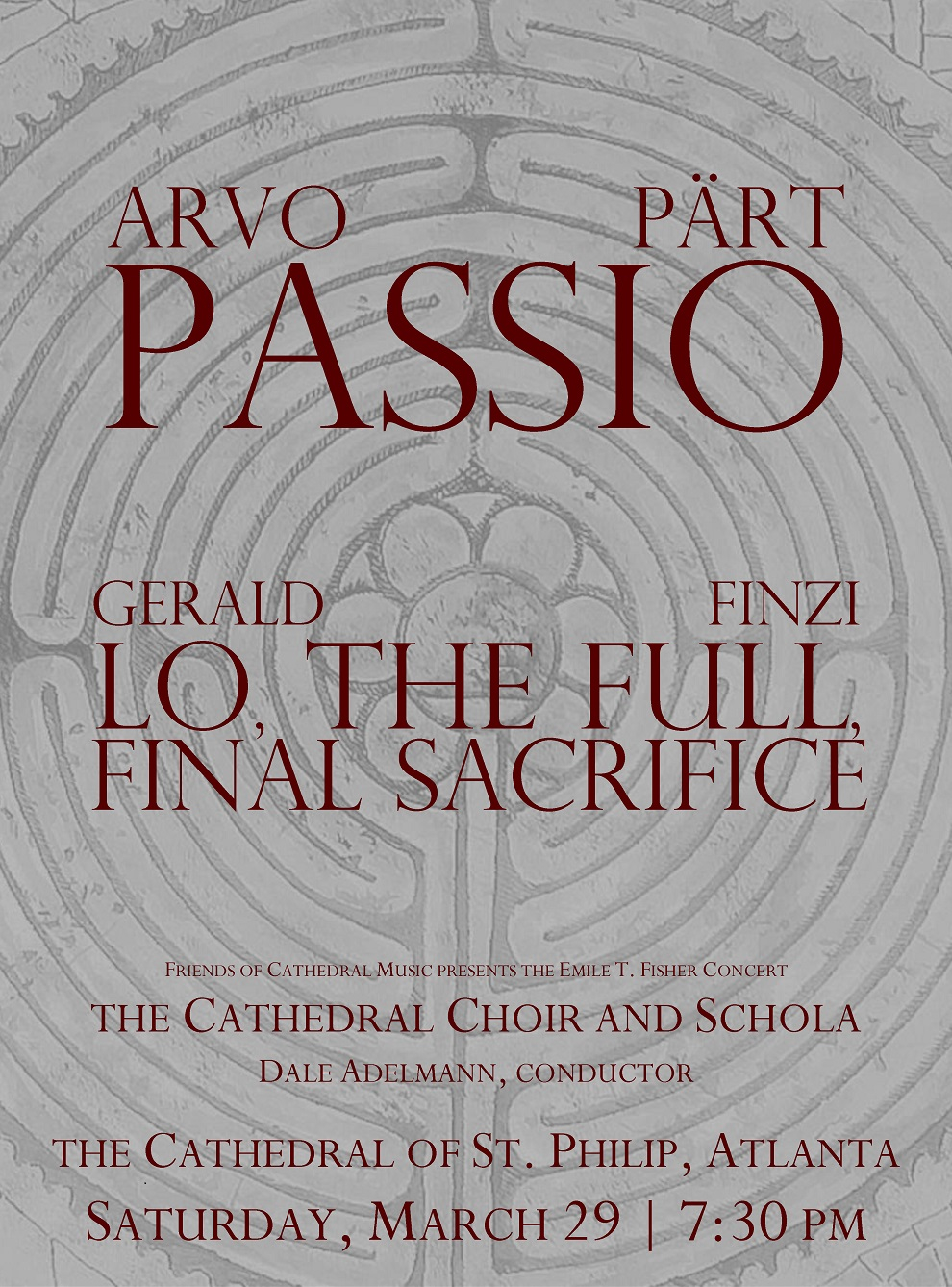 Finzi's LO, THE FULL, FINAL SACRIFICE for choir and organ sets Richard Crashaw's translations of Thomas Aquinas's Eucharistic hymns "Adoro te devote" and "Lauda Sion salvatorem" to music that is harmonically lush and melodically exquisite.

Pärt's PASSIO, arguably the most important musical setting of the passion narrative since Johann Sebastian Bach, is by contrast stark and clean. Five instrumentalists, six soloists, and choir recount the betrayal, trial, and crucifixion of Jesus simply and economically. Despite Passio's mathematical precision—or, more accurately, because of it—this is music that is beautiful, contemplative, and profound, at times even overwhelming.
Evangelists:
Megan Brunning, soprano
Amy Chastain, alto
Kevin Wickware, tenor
Philip Moody, bass
Pilate:
Brian Lustig, tenor
Jesus:
Stephen McCool, bass

Instrumentalists
Evan Few, violin; Erin Ellis, cello; Dane Philipsen, oboe; Mike Muszynski, bassoon; David Fishburn and Kenneth Miller, organ


The Emile Fisher Concert: A Pilgrimage through the Passion
Churches offer sacred concerts for a variety of good reasons. In my opinion the most compelling motivation for doing so is that such concerts offer an opportunity for people to encounter God in ways that are uncommon, and do not fit within the parameters of a worship service. Sacred concerts are not just occasions to present and enjoy pretty music—however aware we may be that all beauty is a reflection of the Divine—they are opportunities to enter into a deeper and different experience of God. On Saturday, March 29, at 7:30 p.m., The Cathedral Choir and Schola will offer just such an opportunity, in this case a musical pilgrimage to contemplate the surpassing love of God for humankind as expressed in the suffering and Passion of Jesus. As far as I can ascertain, this will be the first Atlanta performance of both of the sacred masterworks on the program.
The first work, Lo, the full final Sacrifice happens to be my personal all-time, most-beloved extended anthem. English composer Gerald Finzi's musical setting (1946) of its image-rich poetry (12th-century Aquinas, translated by the early 17th-centurhy English poet, Richard Crashaw) is a work with which I have lived for a quarter century, and every encounter with it is more meaningful than the last. Over sixteen minutes that slip by in what seems a few masterful minutes, Finzi's glorious harmonies enliven every syllable of the text as it moves effortlessly from sections that are tender and sublime to others that are thrilling, joyous, and even overwhelming. It is a masterful meditation on Christ's sacrifice, God's unfailing love, and the Eucharist. This work is rarely performed in North America, due both to its length and the demands it makes of the choir and the organist, but it is a sacred masterpiece that is instantly lovable and inexhaustibly profound.
The second work on the program is PASSIO, a setting of the passion of Christ as told in the gospel of John. The contemporary Estonian composer Arvo Pärt employs a singular musical language that is simple in its complexity, yet fresh and deeply rooted in the tradition of his own Orthodox Christian faith. The narrative is told dispassionately, using musical materials that are minimalist and enhanced by an integral use of silences, all of which draws one gradually into a stillness of soul that makes this experience of the Passion far more a spiritual pilgrimage than a dramatic retelling of an historical event. In many ways, experiencing PASSIO is not unlike the contemplative experience of walking a labyrinth, which is why we are using that image as a symbol of this sacred musical encounter. If you relax into this experience and allow yourself to be completely present in the moment, by the time we reach the end, I believe you will sense the presence of God in a way that is at once surprising, palpable, deeply moving and even humbling.
We are pleased that the Cathedral's Spiritual Formation and Nurture Committee has agreed to partner with us to make the indoor labyrinth available in Child Hall on the evening of the concert. For those who wish to add this element to the evening's pilgrimage, the labyrinth will be available for several hours prior to, and for one hour following the concert. The new outdoor labyrinth in front of Lanier House, of course, is always available.
I encourage you to take time in your Lenten observance to make this trek with us.
—Dale Adelmann, Canon for Music
---
Alan Morrison, organ
Tuesday, September 9, 2014
8 p.m.
Co-sponsored by Friends of Cathedral Music and the Moore-Wilkerson fund of the Cathedral of St Philip, and the Atlanta Chapter of the American Guild of Organists
Free admission.
The centennial celebrations of the Atlanta AGO Chapter begin with a recital that will thrill and delight, by one of the world's premier concert organists, native Atlantan Alan Morrison (Head of the Organ Department at the world-renowned Curtis Institute of Music, Philadelphia; and Associate Professor of Organ at Westminster Choir College, Princeton). The program will include works by J.S. Bach, Charles-Marie Widor, Louis Vierne, Marcel Duprè, Leo Sowerby, John Weaver, Roland Diggle, and the premiëre of the Atlanta Chapter centennial commission Chorale and Gigue by David Conte (San Francisco Conservatory of Music).
---
Friday, September 26, 2014
8 p.m.
Schola Cantorum of Oxford (England)
James Burton, conductor
Presented by the British Consulate-General of Atlanta and Friends of Cathedral Music




Patron tickets:
$100 in advance (includes 2 tickets & unreserved seats in the preferred seating section of the Cathedral nave, held until 10 minutes prior to the concert)
General admission:
$20 in advance / $25 day of concert
Seniors & students:
$15 in advance / $20 day of concert
Schola Cantorum of Oxford is one of the longest established and most widely known chamber choirs in the United Kingdom. The choir has worked with such highly respected musicians and former patrons as Sir Michael Tippett and Yehudi Menuhin, as well as Leonard Bernstein, Gustav Leonhart, Colin Davis, Mark Elder, and Neville Marriner. The Schola comprises around thirty singers, most of whom are students at Oxford University, and the group is well known worldwide by its long history of recordings and international tours. During the past decade the choir has toured Argentina, China, France, Israel, Mexico, Poland, and throughout the United Kingdom. The Schola's last tour of the United States was some twenty years ago, and so their stop in Atlanta will truly be a rare and wonderful opportunity to hear this fine ensemble perform live.
Schola Cantorum of Oxford, conducted by James Burton, will present a program of works from the heart of the English Choral tradition. The programme will feature masterpieces by Herbert Howells (Take him, earth, for cherishing), Hubert Parry (Songs of Farewell), and Charles Villiers Stanford's little heard Latin Magnificat, a tour de force of the a cappella repertoire which is on the same ambitious scale as Bach's great choral motets.
Schola Cantorum's program will also include motets from the English Renaissance by composers such as Thomas Weelkes, John Sheppard and Thomas Tallis, as well as works written by living composers who are closely associated with the modern choral scene in Oxford. The concerts will begin with world première performances of a stunning new choral work by Roderick Williams, and the choir will sing a recent work, Te lucis ante terminum, by the choir's Music Director and Conductor James Burton, which was written to commemorate this year's anniversary of the outbreak of the First World War in 1914.
The PROGRAM will include:
Benjamin Britten, A hymn to the Virgin
Richard Dering, Factum est silentium
Orlando Gibbons, O clap your hands and O Lord, in thy wrath
Herbert Howells, Take him, earth, for cherishing
Kenneth Leighton, God's grandeur
CHH Parry, "My soul there is a country" (Songs of Farewell)
John Sheppard, Liber nos, salva nos I
CV Stanford, Latin Magnificat
Thomas Tallis, Loquebantur variis linguis
Michael Tippett, Plebs angelica
Ralph Vaughan Williams, Prayer to the Father of Heaven
Thomas Weelkes, When David heard
William Walton, A Litany
Roderick Williams, O Radix Jesse (world première performances)
Tarik O'Regan, O vera digna hostia
James Burton, Te lucis ante terminum
Thomas Ades, Fayfax Carol
Saturday, December 13, 2014 -- SOLD OUT
6:45 p.m. pre-concert lecture for ticket holders
7:30 p.m. Concert at the Cathedral of St. Philip, Atlanta


There is a possibility that a few free seats will become available at the door, if any ticket holders do not show.
Sunday, December 14, 2014 -- SOLD OUT
3:15 p.m. Pre-concert lecture for ticket holders
4:00 p.m. Concert at St. David's Episcopal Church, Roswell
Pre-concert talk for ticket holders by
Professor Edward Eanes (Kennesaw State University):
Saturday, December 13 at 6:45 p.m. at The Cathedral of St. Philip
Sunday, December 14 at 3:15 p.m. at St. David's, Roswell
Clara Rottsolk, soprano
David Daniels, countertenor
Karim Sulayman, tenor
Mischa Bouvier, baritone

The Cathedral Schola
Dale Adelmann, conductor

Atlanta Baroque Orchestra
Julie Andrijeski, artistic director & concertmaster
Patron tickets: $100 in advance (includes 2 tickets & unreserved seats in the preferred seating section of the Cathedral nave, held until 10 minutes prior to the concert)
General admission: $25 in advance / $35 day of concert
Seniors: $20 in advance / $25 day of concert
Students: $10 in advance / $15 day of concert
A rare opportunity to hear Handel's Messiah (Dublin version) in all of its glory, performed by specialists in baroque performance practice in collaboration with a world-class cast of soloists and the Cathedral of St Philip Schola. "We are pleased to be bringing the complete Messiah to Atlanta again this year with four top- notch soloists who are all internationally active performers," said ABO Artistic Director Julie Andrijeski. "This December we will join Dale Adelmann and the Schola of the Cathedral of St. Philip, an elite chamber choir that equals the size of Handel's original chorus. Based on the electrifying response to our last Messiah performance, and also to last year's collaboration with the Cathedral of St. Philip in our program of Handel's Dixit Dominus, I can assure you that this will add up to a memorable and stimulating performance not to be missed!" Audiences will have the rare opportunity to hear the work performed almost in its entirety as Handel conceived it, by specialists in baroque performance practice. "Handel's Messiah is one of those widely beloved choral masterworks that has moved audiences when performed by fine musicians in just about any manner for nearly three hundred years, yet it comes to life in utterly unexpected and delightful ways when played on the differently constructed instruments of the baroque era, and by musicians who have made it their specialty to study and employ baroque performance practices," writes conductor Dale Adelmann. "Under Julie Andrijeski's masterful leadership, the Atlanta Baroque Orchestra and this world-class cast of soloists will provide a rare opportunity to hear it performed as nearly as we can reconstruct to the manner in which the composer himself would have imagined and experienced this music. Using period instruments and a chamber-sized chorus, Handel's brilliant counterpoint takes on a crystalline transparency that is simply thrilling. The music fairly dances!"
Clara Rottsolk: "Pure and shining" (Cleveland Plain Dealer) soprano Clara Rottsolk has been lauded by The New York Times for her "clear, appealing voice and expressive conviction" and by The Philadelphia Inquirer for the "opulent tone [with which] every phrase has such a communicative emotional presence." In a repertoire extending from the Renaissance to the contemporary, her solo appearances with orchestras and chamber ensembles have taken her across the United States, the Middle East, Japan and South America. She specializes in historically informed performance practice, singing with a wide range of notable ensembles, under the direction of conductors including Joshua Rifkin, Bruno Weil, Paul Goodwin, and David Effron. She has performed at numerous festivals, including the Carmel Bach Festival and Boston Early Music Festival, as well as on myriad concert series across the country. Among her stage roles are Micaëla (Carmen), Semele (Semele), and Dido (Dido and Aeneas). Her recordings have been praised as "supple and stylish... and unflaggingly attractive" by Gramophone Magazine. Ms. Rottsolk is based in Philadelphia and teaches voice at Swarthmore, Haverford and Bryn Mawr Colleges. Please visit www.clararottsolk.com
The impact of David Daniels on the stage today is summed up by this quote from The New York Times: "To say that he is the most acclaimed countertenor of the day, perhaps the best ever, is to understate his achievement. He is simply a great singer." He has appeared in title roles on the great stages throughout the world, from the Metropolitan Opera to the Bayerische Staatsoper in Munich, as soloist with orchestras ranging from the Berlin Philharmonic and the Chicago Symphony to the English Consort, as recitalist at Carnegie Hall and Vienna's Konzerthaus, and on over two dozen opera and solo albums. Recent notable achievements include leading roles with the Metropolitan Opera in three different productions in one season, and his introduction of the role of Oscar Wilde in the première performances of Theodore Morrison's Oscar, an opera written specifically for Mr. Daniels, at Santa Fe Opera in 2013 and this coming February 2015 at Opera Philadelphia. Please visit www.danielssings.com
Karim Sulayman, tenor, is consistently praised for his sensitive musicality, vivid portrayals, and beautiful vocalism. With a vast repertoire that spans renaissance to contemporary music, the young tenor has firmly established himself as a sophisticated and versatile artist of his generation. This season he records and debuts the role of Eurillo in Scarlatti's Gli equivoci nel sembiante with Haymarket Opera, performs Messiah with Atlanta Baroque Orchestra, and has multiple return engagements with Apollo's Fire. Recent highlights include three seasons at the Marlboro Music Festival and engagements at Lincoln Center, the Kennedy Center, Carnegie Hall, New York City Opera, Boston Lyric Opera, Chicago Opera Theater, Cité de la Musique, Apollo's Fire, the Casals Festival, Aspen Music Festival and the International Bach Festival. His growing discography includes the title role in Handel's Acis and Galatea, and two releases for NAXOS, as well as two upcoming releases on the AVIE and Furious Artisans labels. As a boy alto soloist he performed with the Chicago Symphony Orchestra under Sir Georg Solti and the St. Louis Symphony under Leonard Slatkin. Please visit www.karimsulayman.com
Praised by Opera News for his "soothing, cavernous baritone that can soar to heights of lyric beauty," Alabama-born baritone Mischa Bouvier continues to impact audiences with his keen musicality and remarkable communicative ability. Noted for his "extraordinary and varied background" by San Francisco Classical Voice, Mr. Bouvier has appeared with Orchestra of St. Luke's, NYFOS, Folger Consort, Sting, Musica Sacra, Princeton Glee Club, Boston Symphony Orchestra, Five Boroughs Music Festival, Boston Pops, Metropolis Ensemble, Colorado Symphony Orchestra, New Mexico Symphony Orchestra, Anonymous 4, Bronx Opera, Long Island Philharmonic, Columbus Symphony Orchestra, Mark Morris Dance Group, and The Knights. Mr. Bouvier's 2014-2015 season includes performances with American Bach Soloists, Alabama Symphony Orchestra, El Festival Casals de Puerto Rico, Bach Collegium San Diego, Musica Sacra Maastricht, Stamford Symphony and Mirror Visions Ensemble, as well as recitals in South Carolina, Massachusetts, Arizona, Arkansas, Washington, New York and Tennessee. Please visit www.mischabouvier.com
Saturday, February 28, 2015
7:30 p.m.
Franz Josef Haydn
The Lord Nelson Mass
(Missa in Angustiis)

Francis Poulenc
Litanies à la Vierge Noire
and
Quatre petites prières de Saint François d'Assise

Bruce Neswick, Give thanks unto the Lord (première)

The Emile T. Fisher Winter Concert
Cathedral Choir with orchestra
Dale Adelmann, conductor
Patron tickets: $100 in advance (includes 2 tickets & unreserved seats in the preferred seating section of the Cathedral nave, held until 10 minutes prior to the concert)
General admission: $20 in advance / $25 day of concert
Seniors & students: $15 in advance / $20 day of concert
Haydn's most beloved mass—according to his biography, "arguably Haydn's greatest single composition"—was written near the end of the Napoleonic wars when Austria was under siege. Originally titled Missa in Angustiis ("Mass in Troubled Times"), it acquired its more famous nickname upon its première in 1798, as word arrived of Admiral Lord Nelson's stunning victory in the Battle of the Nile. The Cathedral Choir's annual concert will provide a rare North American opportunity to hear this magnificent masterwork performed live. Paired with two of Francis Poulenc's most ravishingly beautiful sacred choral works and the première of an introit commissioned to honor past Friends of Cathedral Music president, Chandler Rudd, this evening will be a feast for the ears and for the soul.
Saturday, April 18, 2015
7:30 p.m.
The Choir of St Paul's Cathedral, London, England
Andrew Carwood, Director of Music
Presented by the British Consulate-General Atlanta and Friends of Cathedral Music.
Patron tickets: $150 in advance (includes 2 tickets & unreserved seats in the preferred seating section of the Cathedral nave, held until 10 minutes prior to the concert)
General Admission: $30 in advance / $40 day of concert
Seniors & students: $20 in advance / $25 day of concert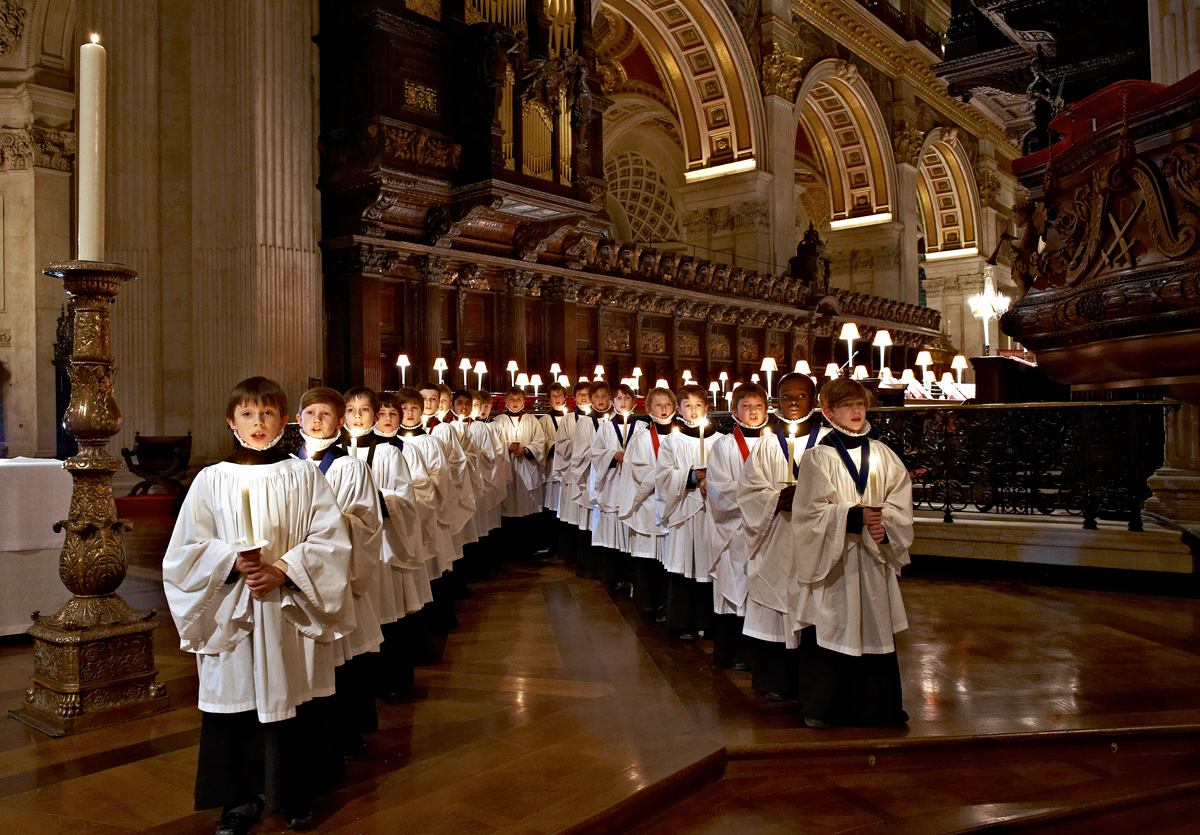 Additional parking will be available at Second Ponce de Leon Baptist Church (2715 Peachtree Road NE), with free shuttle service to the door of the Cathedral.
The Choir of St Paul's Cathedral, London, is one of the most renowned Choirs of Men & Boys in the world. Known worldwide from its many recordings and, throughout modern history, its participation in services on national occasions, most recently HM The Queen's Diamond Jubilee (2012) and the funeral of Baroness Thatcher (2013), the Choir's main responsibility is to sing the daily choral services of St Paul's Cathedral, for which it maintains one of the largest active choral repertoires of any choir, anywhere. This concert is part of the Choir's first tour of the United States in more than a decade, and an opportunity not to be missed!
Listen to a delightful interview with Andrew Carwood, Director of Music at St. Paul's Cathedral, London, giving a glimpse into the life of the Cathedral's boy choristers. The interview was conducted by Noel Morris, executive producer of City Lights with Lois Reitzes, and aired on Atlanta's own WABE 90.1 FM
Wednesday, June 24, 2015
7:30 p.m.
Benjamin Straley, organ
Organist and Associate Director of Music, Washington National Cathedral
Suggested donation: $15 at the door
Since joining the music staff of Washington National Cathedral, Benjamin Straley has earned a reputation as one of the finest young organists and service players in the United States. Upon the completion of his undergraduate studies with Marilyn Keiser at Indiana University, he entered the Yale Institute of Sacred Music in 2008, where he studied organ with Martin Jean and improvisation with Jeffrey Brillhart. In 2010, he became one of only a few Americans ever to be invited to compete in the Haarlem Organ Festival's world-renowned contest in improvisation. He holds both a Master of Music and a Master of Divinity degree from Yale University, as well as a Diploma in Anglican Studies from Berkeley Divinity School.
Healey Willan, Epithalame ("Sortie")
Johann Sebastian Bach, Prelude & Fugue in D major, BWV 532
Louis Vierne, Clair de lune, from Pièces de fantaisie, Op. 53
Louis Vierne, Toccata, from Pièces de fantaisie, Op. 53
Maurice Duruflé, Prélude et fugue sur le nom d'Alain, Op. 7
J.S. Bach, Trio Super: Allein Gott in der Höh sei Ehr, BWV 664
Jean Langlais, Fête, Op. 51
Ad Wammes, Miroir
Healey Willan, Introduction, Passacaglia & Fugue
---