Outreach
We are in touch with our various community partners to stay up-to-date about what they need to care for our neighbors in need, which changes regularly. For more information about our most urgent needs please view our most recent newsletter. To be added to the Outreach newsletter campaign, please contact Sara Craig-Goodell.
For specific questions about the Cathedral's mission and outreach, please contact the Rev. Canon Julia Mitchener.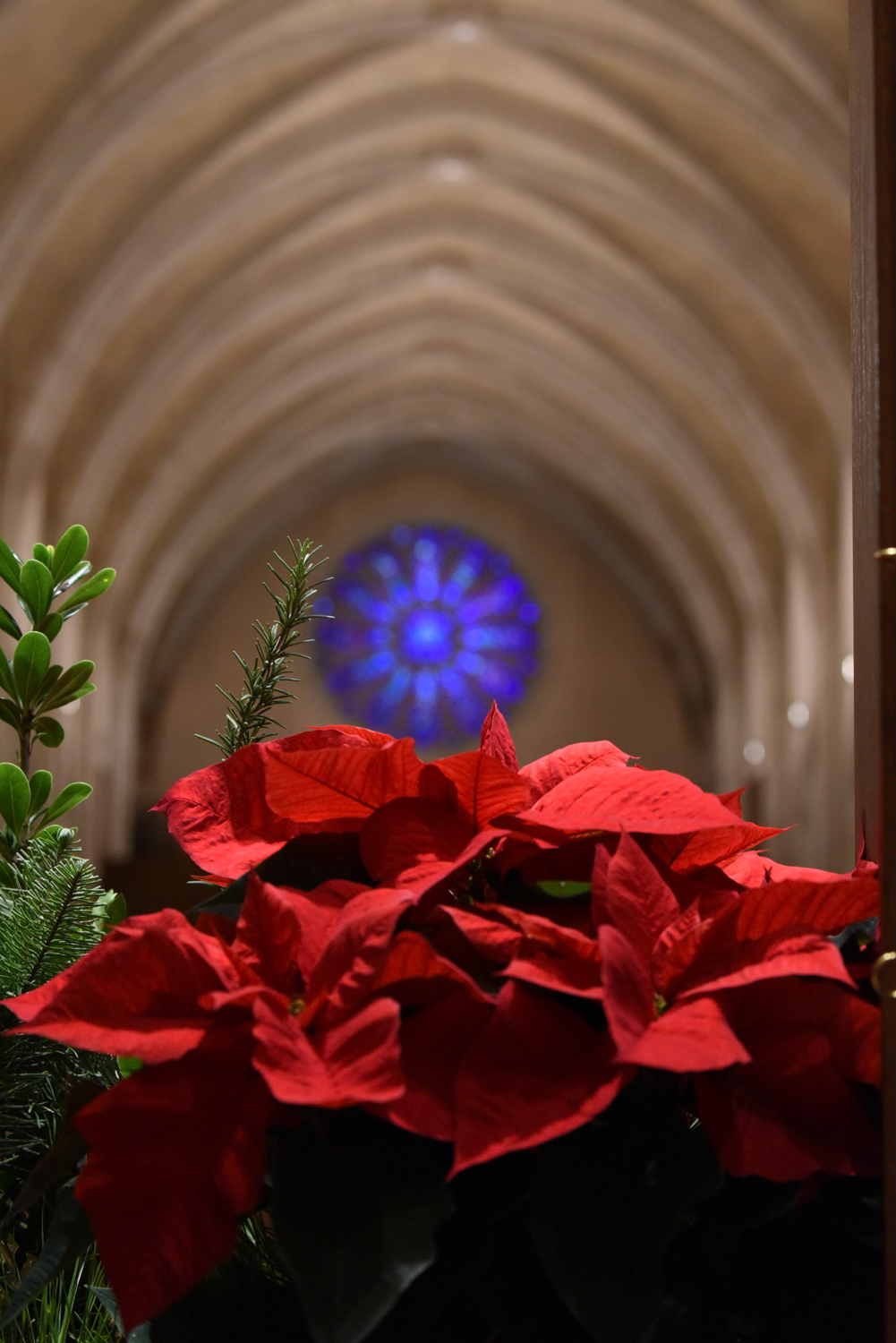 Christmas Cards Fundraiser
The Cathedral's Discretionary Fund for the Needy provides short term help with food, clothing, shelter, transportation, medical care and other life essentials for both parishioners and those from the wider community experiencing an emergency. Examples of assistance include the paying of a utility bill so that a young family's power can stay on; helping with rent so that a senior citizen can avoid eviction; the purchasing of a MARTA card that allows someone to get to a new job; the filling of a life saving prescription not fully funded by Medicaid. While there are social service agencies in Metro Atlanta that also provide this sort of help, many have long waiting lists. Meanwhile, our neighbors are hurting right now.
Please support the Discretionary Fund for the Needy by purchasing these Christmas cards featuring a classic scene of the cathedral decorated for the holidays. 100% of proceeds will go directly to help our community's most vulnerable. Cards can be bought individually or as a boxed set of 10. They make great hostess gifts, fit easily in a suitcase or handbag for travel, and are the perfect way to honor someone special in your life. They can be purchased through the Cathedral Bookstore in person or online.
Inside of cards read "Merry Christmas! A Christmas gift has been made in your honor to the Discretionary Fund for the Needy at the Cathedral of St. Philip."
---
The Cathedral's Community Partners:
Buckhead Christian Ministry
Buckhead Christian Ministry works to keep people from becoming homeless and elevate their possibilities for economic empowerment. They are requesting significant financial assistance so that they can assist those suffering from economic losses due to the Covid-19 pandemic.
---
Cathedral Towers
Cathedral Towers is a 501(c)(3) that offers affordable housing and provides a safe environment with rent determined on a sliding scale set by HUD guidelines. Ten Cathedral Tower families currently receive donations of groceries from Intown Collaborative Ministries. If you'd like to help, please see their website.

information about Cathedral Towers and National Church Residences
---
Chris 180
Chris 180 You can visit Chris180's complete wish list here.
---
Church of the Common Ground
Church of Common the Ground is a church community on the streets of Atlanta living the Good News that we are all God's beloved. There are several volunteer opportunities including volunteering for the Common Souls Foot Clinic, being a pastoral caregiver, and joining the congregation for worship on Sundays at 1 p.m. in Woodruff Park, Morning Prayer Mondays and Wednesdays at 11 a.m., and Bible Study on Wednesdays at 2:30 p.m. Read more here.

---
City of Refuge
City of Refuge has many opportunities to volunteer from joining the Cleaning Brigade to helping with the after-school program and Activity Stations with preschoolers. You can register to volunteer and see the full calendar here.

---
Crossroads Community Ministries
Crossroads Community Ministries continues offering many of its services to neighbors experiencing extreme poverty. With many food service providers having to close doors, the City of Atlanta has identified food as one of the most critical needs for neighbors experiencing homelessness and poverty. Crossroads is distributing 200 bag lunches each day. They are accepting donations of sandwich meat, bread, fruit cups, chips, granola bars, bottled waters, Ziploc bags, brown paper bags, and more. Volunteer opportunities include making sandwiches, building toiletry kits, working in the mailroom, serving food in Clyde's kitchen, and sorting clothes for the clothing closet.
---
Emmaus House
Emmaus House continues to operate their food pantry, and asks for donations to respond to food insecurity in Peoplestown. This is their top priority. Volunteer opportunities include Food Pantry Delivery and helping with the Youth on the Move after-school program as a homework tutor or career speaker.
---
Georgia Justice Project
Georgia Justice Project is committed to serving people affected by the criminal justice system. As people across the nation are experiencing uncertainty as a result of the COVID-19 pandemic, this is a particularly challenging time for the 4.3 million people who have a Georgia criminal history, who were already experiencing unemployment, housing insecurities and economic instability due to barriers caused by a criminal record. While St. Philip's prison ministry volunteers are currently unable to be present with or even communicate with our neighbors at Lee Arrendale State Prison, we encourage people to read up on and support GJP's initiatives.
---
Holy Comforter
Holy Comforter serves a congregation in which 60% of its members live with mental illness. They have provided this list of items needed: postage stamps, toilet paper, hand sanitizer and/or soap, art supplies, prayer cards and rubber gloves. Volunteer needs include van drivers, gardeners, kitchen servers, food prep assistants, art teachers, activities and enrichment leaders, teaching volunteers, health volunteers, conversation partners, and communications volunteers.
---
Intown Cares
Intown Cares has an ongoing need for food pantry volunteers and grocery delivery drivers for those who cannot reach the food pantry in person. You can also purchase fresh produce from farmers at the Cathedral Farmers Market and the farmers will set aside these donations for the Intown Cares food pantry to be distributed to families in need in their client choice pantry. There are also donation bins in the Atrium where shelf-stable dry goods may be donated. Their most urgent pantry needs can be found here.

---
Kidz2Leaders
Kidz2Leaders provides mentoring and summer camp program for youth who have a parent incarcerated. There are various annual volunteer needs including Camp Hope counselors, Interns4Tomorrow, family support, office support, fundraising events, and Hope4Christmas.
---
La Amistad
La Amistad families received immediate assistance from the Cathedral of St. Philip to ensure the students in our after-school program are getting the nutrition they need at home. To volunteer at the after-school program for Garden Hills Elementary students, please contact Lisa McNamara, LMcNamara@cathedralATL.org.
---
Partners for Home
Partners for Home is the overarching organization supporting all Homeless Service Providers. You can visit their website for more information about city-wide efforts to care for caring for people experiencing homelessness and Covid-19. Volunteers and staff working with the homeless are exempt from the City of Atlanta's Shelter in Place order. If you are willing and able to do outreach, please contact Sara Craig-Goodell, scraiggoodell@cathedralATL.org.
---
Respite Care Atlanta
Respite Care Atlanta's mission is to provide spiritually integrated respite care for adults with early to mid-stage cognitive challenges. The program provides an environment for intellectual stimulation, physical exercise, and meaningful connections, with support for caregivers through information and community resources. A virtually all-volunteer staff is the driving force behind this community-based respite program. Respite Care Atlanta is seeking volunteers for its weekly respite program assisting adults living with mild-to-moderate dementia. Volunteers get to share their ideas and talents while helping to provide a safe and stimulating environment for program participants.
---
Sheltering Arms
Sheltering Arms is working hard to get disposable diapers, formula, and other essentials to families in need, and they've asked us to help. If you'd like to donate diapers for Sheltering Arms to distribute, you can do so on their diaper drive Amazon wish list. Other ways to help include volunteering for the following programs: Spring Service Day, Read to Me (Wednesdays, 9 a.m.-11a.m.), Teach a Life Skills Workshop, and other seasonal opportunities.
---
The Boyce L. Ansley School
The Boyce L. Ansley School is collecting funds to provide for the nutrition and educational needs of their pre-k and kindergarten students experiencing homelessness. You can support their mission by donating here.
---