Young Professionals
Our Cathedral Young Professionals (YP) group is made up of young adults in their twenties and thirties that desire to be part of an active community of faith that will engage in spiritual formation, social gatherings, and service projects. They continue to gather socially for fun, service, prayer, and Bible study in various ways. All Cathedral members and interested friends in their twenties and thirties are welcome!
Members can be a part of this community by getting involved with the social and service gatherings but may also elect to engage in the many worship and ministry opportunities available at the Cathedral. We would love to meet you and help you get involved.
To find out more and subscribe to our weekly newsletter, contact Keith Dumke, Director of Youth & Young Adult Ministries, at kdumke@cathedralATL.org.
---
Sunday Morning Bible Study
10:10 a.m., in the Lanier House
Young Professionals' Bible Study classes are held in the Lanier House library. No advance preparation is needed, and we talk about the week's scripture. Come join us!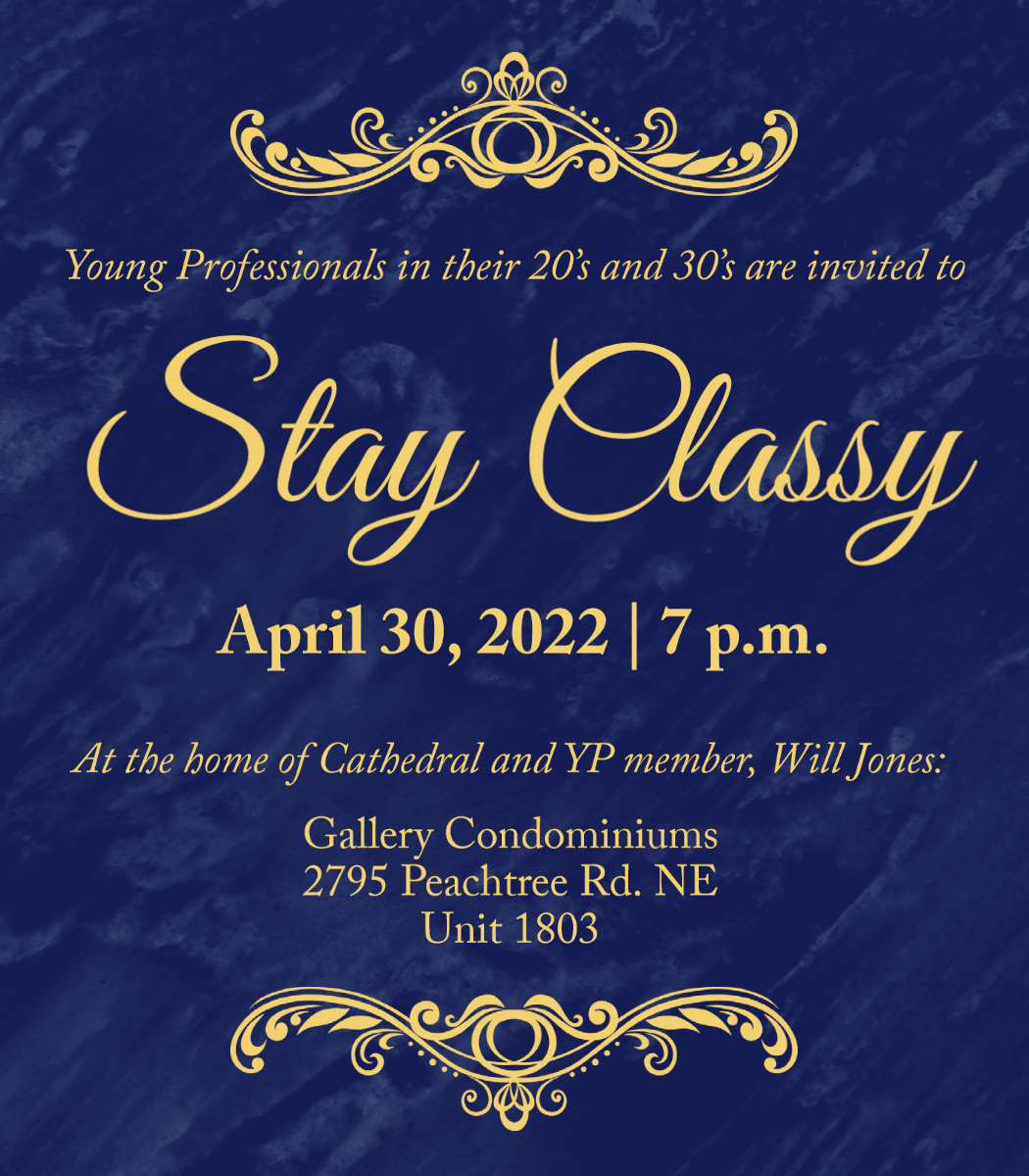 Stay Classy Social Event
A note from our host:
Let's get together, get dressed up (remember that?), and have a fun night overlooking beautiful Buckhead from the 18th floor at the Gallery!

The weather is getting nice and I'll have both patios open and we'll have plenty of food and drinks, but of course if you have a favorite bring it along. It would be great to meet all the Cathedral young professionals and hang out.

I've been going to the Cathedral for a while now, and it seems like I'm always meeting new people who have been there forever as well. This is one of my life-hacks, throwing a party to meet a bunch of people at once! So if you're up for a great party and meeting some cool people, come up and have a good time! Also, bring a guest!

The party will be at my home, the Gallery, which is the high-rise across the street from the church, so if you drive, park at the church and walk over. The concierge will know you're here to see everyone at my place (Unit 1803) and they will let you up the elevator.

Entrance: The front door is at the corner of the building (if walking from the church, it's about 30 yards down the sidewalk, then the last door at the end), and you walk into a small room where you see the concierge's desk on the other side. There is a callbox on the right side of the door; press that to tell the concierge you're here for the party at 1803 (or Will Jones's place). They will let you up the elevator, and my unit is the first one on the right.

Attire: I'm going dressy, aiming for that classic city party vibe, but your attendance and having a good time is what matters most! Please dress as you feel comfortable.

Food: We'll have plenty to eat and a variety of wines/beers. If you have something that makes your night, bring it. I look forward to seeing you!
---
YP Leadership Team
Meet our Young Professionals leadership team! To deepen our YP ministry and widen our reach, we have a lay leadership structure consisting of a chairperson and co-chairs. Serving terms of 1–2 years, they help set priorities for our YP programs, plan events, and provide pastoral support.
Our current leadership team is: Hubert Tate (chair) and Abby Schultz (co-chair)