Education
Sundays and During the Week
By virtue of our baptism, all of us are called to ministry, whether ordained or not. Our adult education offerings help us live into that call, through teaching about our Scriptures, traditions, practices; cultivating skills for ministry; engaging together in theological reflection and crucial conversations; and building communities of spiritual support. Contact Canon Cathy Zappa, 404-365-1043, if you have questions about Adult Education.
Sundays:
Major General James E. Livingston to Speak on Veterans Day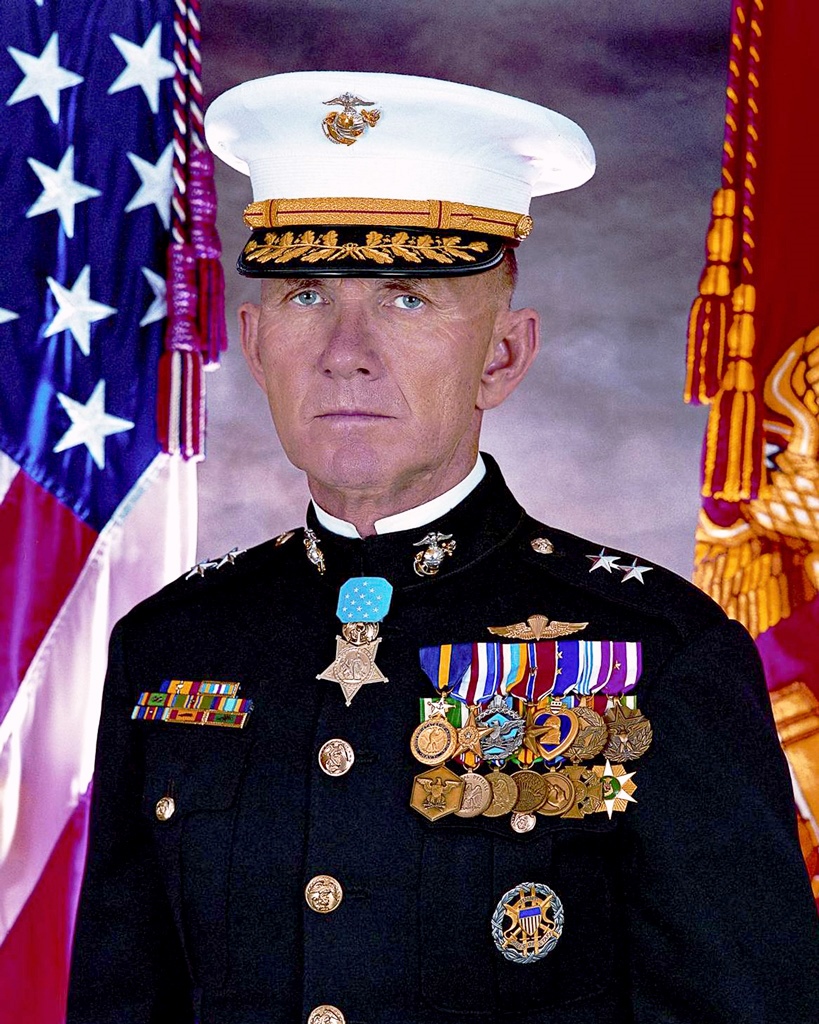 Major General James E. Livingston will speak at the Dean's Forum in Child Hall this Sunday, November 11 at 10:10 a.m. Join us to hear this decorated veteran discuss Veterans Day, his faith, and his service to family and country.
Major General Livingston retired on September 1, 1995 following over 33 continuous years on active duty in the United States Marine Corps.
On May 2, 1968, while serving as the Commanding Officer, Company E, 2d Battalion, 4th Marines in Vietnam, he distinguished himself above and beyond the call of duty in action against enemy forces and received the Medal of Honor.
His decorations include the Medal of Honor; Distinguished Service Medal; Silver Star Medal; Defense Superior Service Medal; Bronze Star Medal, with Combat "V"; Purple Heart, Third Award; Defense Meritorious Service Medal; Meritorious Service Medal, Second Award; Navy Commendation Medal, with Combat "V"; Combat Action ribbon, Second Award; and various other service and foreign decorations. In 2018 he was awarded South Carolina's highest honor, the Order of the Palmetto.
Major General Livingston is a native of Towns, Georgia, and is married to the former Sara Craft. They have two daughters, Kimberly and Melissa.
Old Fashioned Sunday School meets to discuss topics of general interest to the Cathedral community. All are welcome. You will find a light heart, warm welcome, and good coffee! This year the topics for discussion will include several short series of classes led by Canon George Maxwell that will focus on what Paul, the apostle, was actually doing and why; several classes led by Dean Sam Candler offering new ways to understand some old theological ideas; and several classes led by Canon Cathy Zappa, Canon Lauren Holder, and special invited guests on a variety of other topics. For more information, contact Canon Maxwell at gmaxwell@cathedralATL.org.
Living Faith (

Room 120)

Join Canon Lauren Holder and Canon Cathy Zappa as we explore what it means to live out our faith through conversation with scripture and tradition, contemporary books, and, most important, one another. All are welcome!
The Path of Compassion (Room 239)
"Compassion is not just at the heart; it is of the heart. We are never beyond the reach of God's Grace. Grace transforms us. We don't do just gracious acts, we become more gracious as persons." Life itself—to awaken this morning—is grace. Join us for good conversation and exchange of ideas in living and perhaps caring. Family, friends, neighbors, and perhaps others will benefit from your input. Join Canon Carolynne Williams and seminarian Caroline Carson Sundays, October 14 – November 4 as we discuss The Path of Compassion: Living with Heart, Soul, and Mind by Ron Greer.
Clase de Primera Comunión Informada [First Informed Communion Class] (Walthour Library)
Estas clases son para edades de 8 a adulto. Ven a aprender sobre la iglesia episcopal y sobre nuestros sacramentos, oraciones y servicios. El diácono Juan Sandoval enseña esta clase, en español. Esta clase se reúne del 28 de octubre at 2 de diciembre.
These classes are for ages 8 to adult. Come learn about The Episcopal Church and our sacraments, prayers, and services. Deacon Juan Sandoval teaches this class, in Spanish. This class meets October 28–December 2.
Small Group Bible Study (Room 122)
Jim Bingham and Gordon Mathis lead an ongoing small group Bible Study focusing on a particular book of the Bible for several months at a time. This year, we will read the book of Exodus. For more information, please contact Jim Bingham, 404-373-3273.
Biblical Greek (

Room 356)

Continuing Biblical Greek classes are offered on Sundays from 1:15–2:45 p.m. for anyone who wants to learn the basics of translation using grammar aids, lexicons, and commentaries. For more information, contact the Rev. Dr. Thee Smith at tsmith@cathedralATL.org.
Faithful Conversations — Summer 2018
Sundays this summer, join Canons Cathy Zappa and Lauren Holder as we engage in Faithful Conversations. Each week, we will invite a member of our community to sit down with us and talk with us about faith and society in a real and personal way. Our hope is that the courage our conversation partners bring to our discussions will equip us to go "out into the world to do the work God has given us to do." Complementing this class will be a series of service opportunities—stay tuned!
June 3: Canon Zappa and Canon Holder will interview one another about how they view outreach in the life of the church, the community at large, and in their own stories.

June 10: Canon Holder will interview Deacon Juan Sandoval and Graham Younger of Faith in Public Life about how our faith life intersects with immigration.

June 17: Canon Holder will interview the Rev. Monica Mainwaring of Church of the Common Ground about worshipping with homelessness.

June 24: Canon Holder will interview Tony Johns of Crossroads Community Ministries about responding to homelessness with faith.

July 1: Canon Zappa will interview Chris Kelly and Marquetta Thomas, who will share about their experiences with incarceration and reentry into society after prison, as well as faith and ministry.

July 8: Canon Zappa will interview David Burge and Susan Casey about their experiences with the death penalty.

July 15: Canon Zappa will interview Elie Haynes, a representative for Eternal Hope in Haiti, and Natalie Spangler, a rising senior at the Cathedral, about their experiences with ministry in Cap-Haitien, Haiti.
July 22: Canon Zappa will interview the Rev. Dr. Bill Harkins about his work in mental health and his thoughts about how religion, psychology, and justice inform each other.

July 29: Canon Holder will speak with Kate Kennedy, the founder and Executive Director of The Boyce L. Ansley School for children experiencing homelessness.

August 5: Canon Holder will interview Tiffany Banks, our long-time partner at Buckhead Christian Ministries (BCM). Tiffany will talk to us about how her faith informs her work with BCM, while also responding to questions about how BCM is restructuring some of its services to be more respectful of and responsive to people in need.

---
During the Week
Tuesdays
The Dean's Men's Bible Study (7–8 a.m., Room 319)
This group meets every Tuesday morning to read and study scripture, to share faith stories, and to support each other in prayer. Sam Candler, the Dean of the Cathedral, usually leads the group; all men are invited, whether Cathedral members or not.
Early Morning Women's Bible Study (7–8 a.m., Walthour Library)
All women are welcome to this group led by Canons Cathy Zappa and Carolynne Williams; drop in when you can.
Wednesdays
The Dean's Women's Bible Study (10:45–11:45 a.m., Room 319)
This group meets Wednesday mornings to read and study scripture, to share faith stories, and to support each other in prayer. Dean Candler usually leads the group and coffee is available. All women are invited, whether Cathedral members or not.
Eat Your Word Bible Study (noon–1 p.m., Room 380)
Please bring your lunch and be ready for a lively conversation!
Education for Ministry
Education for Ministry is a four-year program of theological study and reflection. Groups meet to discuss scripture, church history, and theology and the intersection of these areas in their personal experience. The program is coordinated through the University of the South and is based throughout the United States and abroad. Click here for more information.
EfM costs approximately $375 each year in the Diocese of Atlanta, but scholarship assistance is sometimes available. (Contact the group mentor.) It starts each year in September and concludes in May.
There are currently two EfM groups meeting at the Cathedral:
Mondays at 6:30 p.m.
This group is mostly comprised of All Saints parishioners, but several Cathedral members belong to this group. Ethel Ware is the mentor.
Tuesdays at 7 p.m.
This multi-parish group is co-mentored by Rick Tyler, 404-375-6470, and Deirdre Glover, 770-865-2141.
---
Book Groups and Monthly Groups
Hart Readers at the Cathedral Book Store
First Wednesday of each month
On first Wednesdays, from 6:30–7:30 p.m., readers from the church and the broader community gather around the Cathedral Book Store, to discuss contemporary books and issues from a theological perspective. Discussions are facilitated by various clergy and lay teachers.
Bill's Book Club (BBC)
First Sunday of each month
Every first Sunday, a merry band of readers gathers in Walthour Library to explore books together and plumb their depths for spiritual growth. The group is facilitated by the Rev. Dr. Bill Harkins. For more information, contact Ruth Marley.
Sons of Thunder: Men's Breakfast and Bible Study
Sons of Thunder meet monthly for breakfast, discussion, and fellowship. All men are welcome! Each session stands on its own, so come when your schedule permits. For more information, contact Canon George Maxwell.
Co-listening Classes
Co-listening is a simple but powerful practice where two people take turns listening to each other without interruption. Confidentiality and peer-coaching skills make it safer to share as fully as possible. Learning to listen effectively helps release us from distresses rooted in the past and renews our ability to think and function powerfully with care for ourselves and others. Introductory sessions are free and require no commitment; classes are offered on a sliding scale. For more information, contact the Rev. Dr. Thee Smith or visit www.rc.org.