Old Fashioned Sunday School
---

Old Fashioned Sunday School Archives »
Canon George Maxwell sermons »
---
As with other offerings of the Cathedral in this time of Social Distance for the Common Good, we hope to stay in holy relationship. Canon George Maxwell teaches this class via Zoom.
To join via Zoom video, simply click this link and follow the prompts to download the Zoom app or start from your browser. Or, you can dial in by phone (1-646-558-8656) and enter meeting ID 947 9858 6103.
Advent Term 2020: The Holy Thursday Revolution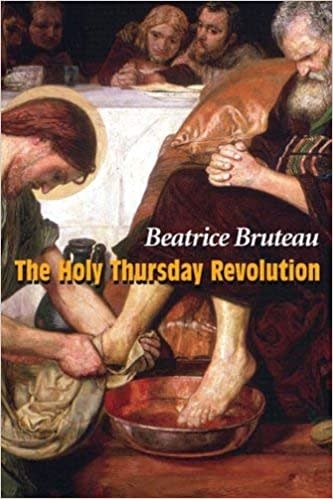 Canon George Maxwell will take a new look at what Jesus was doing on Maundy Thursday when he washed his disciples' feet and shared supper with them. In her book, The Holy Thursday Revolution, the philosopher Beatrice Bruteau argues that Jesus was showing us a new way to think about ourselves and organize our society. We'll talk about how this evolution of thought offers us hope in the midst of increasing anxiety caused by the pandemic, social unrest, and election season.
The book is available from the Cathedral Book Store.
November 15, 2020: The Jesus Program, part II / video
November 8, 2020: The Jesus Program, part I / video
November 1, 2020: The Ten Commandments: What Do They Have To Do With Jesus? / video
October 25, 2020: The Messianic Age / video
October 18, 2020: Nicodemus and Human Nature / video
October 11, 2020: St. Philip the Deacon: The Relationship Between Baptism and the Holy Thursday Revolution / video
October 4, 2020: St. Francis of Assisi: An Exemplar of the Friendship Paradigm / video
September 27, 2020: Fear: The Root of the Desire for Domination / video
September 20, 2020: The Politics of Domination / video
September 13, 2020: Who Are We? / video
---
The Universal Christ
August 30: Third Conversation / video
August 23: Second Conversation / video
August 16: First Conversation / video