Children's Ministries


Sunday Mornings LIVE!


Although we currently cannot meet in person, we will meet via Zoom each week. At 10:10 a.m., we will start with Chapel, zooming live from our children's chapel. Then we will roll straight into Godly Play/StoryMakers - our combined Sunday School curriculum at 10:30 a.m. Our 2020-2021 curriculum year will end on Sunday, May 16.
The Godly Play philosophy permeates all that we do with children and families at the Cathedral. In short, that means that we take children and their relationship with God seriously and seek to provide both space to foster encounters with God and the language necessary to make meaning of those experiences. Within the Godly Play classroom, the Biblical narrative is lovingly presented to children using beautiful materials with an invitation to step into each story with awe and wonder. Children are then allowed time to respond to and reflect on their experience of the story.
StoryMakers is dedicated to creating new ways of sharing God's redemptive narrative found in the Bible. The hope is to share the Gospel with kids in a way that is meaningful, healthy, and ultimately draws children into God's story. This is done with magazines, vibrant visuals, imagination, play and fun.
We look forward to returning to in-person classes and services in the Fall of 2021!
---
Week of Wonder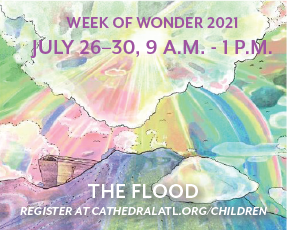 This year at Week of Wonder, our Vacation Bible School for ages 4 – 3rd grade, we'll go on a deep dive into how God uses ordinary people to do extraordinary things. The cost is $150 for the week. This year we will be enjoying the great outdoors and our full Cathedral campus. Following diocesan guidelines, we will wear masks, enjoy small groups, and maintain safe distances. For more information, contact Lisa McNamara, Director of Children's Ministries at lmcnamara@cathedralATL.org.
---
EYSeedlings
EYSeedlings is a space reserved for 4th and 5th graders to support their faith journeys and encourage growth. It is an opportunity for older elementary school children to share in fellowship, deepen their relationship with God and explore new ways of worship. EYSeedlings meet weekly on Sunday evenings 5-6 p.m. Contact Lisa McNamara, lmcnamara@cathedralATL.org, for the Zoom link.
---
LaAmistad Afterschool Program at the Cathedral
Are you looking for a way to be involved in the broader community? Join us as we build our LaAmistad afterschool program at the Cathedral. Volunteer opportunities include tutoring students from Garden Hills Elementary. LaAmistad Afterschool at the Cathedral will continue tutoring via Zoom through the end of 2020.
Click here to learn more about LaAmistad or to register as a volunteer tutor »
---
Children's Program Calendar 2021 – 2022
July 26 – 30, 2021 – Week of Wonder (Vacation Bible School)
August/September (TBD) – Homecoming Sunday
August 28 – Baptism Workshop
September 12 – Children's Chapel and Godly Play begin for 2021-2022 Program Year
September 19 – EYSeedlings (4th and 5th grade Youth Group)
October 3 – St. Francis Sunday – Pet Blessings – Cloister Garden
October 9 – Baptism Workshop
October 10 – Baptisms St. Philip's Sunday
October 17 – EYSeedlings (4th and 5th grade Youth Group)
October 24 – Blessing of Halloween Costumes
October 30 – Baptism Workshop
November 7 – Baptisms - All Saints' Sunday
November 14 – EYSeedlings (4th and 5th grade Youth Group)
November 28 – Advent Wreath Making / Pasta Dinner
December 4 – Baptism Workshop
December 19 – Living Nativity
December 19 – Pageant Rehearsal
December 19 – EYSeedlings (4th and 5th grade Youth Group)
December 24 – Christmas Pageant
January 8 – Baptism workshop
January 9 – Baptisms Sunday of Baptism of our Lord
January 16 – EYSeedlings (4th and 5th grade Youth Group)
February 26 – Baptism Workshop
February 27 – Baptisms Last Sunday of Ephiphany
March 1 – Shrove Tuesday Pancake Night
March 2 – Ash Wednesday Family Service
March 20 – EYSeedlings (4th and 5th grade Youth Group)
April 10 – EYSeedlings (4th and 5th grade Youth Group)
April 16 – Baptism workshop
April 17 – Baptisms – Easter Sunday
May 15 – Last Sunday for Godly Play and Children's Chapel Program Year
May 15 – EYSeedlings (4th and 5th grade Youth Group) EOY PARTY
May 27 – 29 – Kanuga Parish Retreat
June 4 – Baptism workshop
June 5 – Baptisms Pentecost Sunday
July 25 – 29 – Week of Wonder (Vacation Bible School)