Prayer Corner

Habitat for Humanity – by Will Klein
"It is more blessed to give than to receive."
I have been a volunteer with Habitat for Humanity for more than ten years. The experience lifts my heart as each year we begin with a potluck fellowship dinner. Volunteers past, present, and future gather to share a meal, and exchange news. Plans are made for the build and the anticipation mounts for the coming weeks of construction.
Coming together each following week different parishioners bring their talents and tools as contributions to the work site. Food is made and served, fellowship abounds as a house begins to take form.
As construction continues the faces of the volunteers change. Stories are shared between generations and new friendships are formed while pursuing the common goal of building something for someone else.
Finally after eight weeks of work and countless hours by many, the house is finished and ready for a family to make it their home. With the "thanks of the family" echoing in my ears, I realize that we should be thanking them for gathering us as a community in fellowship and prayer and allowing us to share in this experience of being present to God and each other.
If you would like to participate in the Habitat build at St. Philip's (and we started our 30th house this month), you can come by our table in the atrium on Sunday between services or you can contact John Champion, head of our Habitat committee, at jchampion@bellsouth.net. We are always looking for new volunteers.
Children's Chapel – by Kim Flanagan and Sara Chapman
On Sundays during the 8:45 a.m. service in the Nave, three groups of children experience the Word in their own children's chapel services, led by a group of dedicated and loving adults in the education wing.
Divided by age, the two's, three's through Kindergarten, and first through third graders meet to share their own experience of God's word. The message from week to week is the same: God loves you so much he sent his only son Jesus to teach people how to love each other. God's gifts and grace are present throughout your life and the church is a loving and wonderful place for each of you.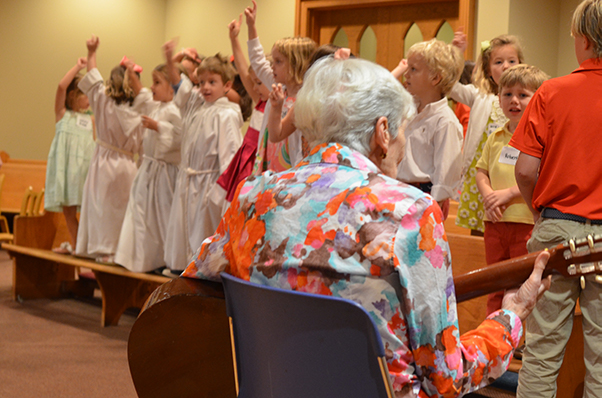 The prayers and songs resonate with enthusiastic children and the adults find it contagious. The teachers find the joy and enthusiasm of the children both draining and reinvigorating, yet they most often discover that chapel is a time in the week to pause and to be present. A time that rarely goes perfectly but is filled with the presence of God.
Anyone interested in joining this team of dedicated teachers may contact Sara Chapman, sarachapman@westminster.net.
—Kim Flanagan and Sara Chapman
Prayer Corner – by Fay Swennes
Coming to the Episcopal Church by way of the Baptist tradition did not exactly prepare me for an encounter with all things liturgical. It did, however, provide an avenue for my enthusiasm to volunteer. After my confirmation, I was eager to get involved in each organization, project, or parochial entity here at the Cathedral, and so I did. Soon, I was feeling like I belonged, but something was missing. My involvement was lacking meaning and a spiritual element which I thought should be present. I was going through the motions, even doing good things, but not feeding my soul in the process.
For some time, I had observed the women wearing purple smocks, moving in and around the altar before and after worship services. Eventually, I got to know some of them and asked to join that ministry known as the Daughters of the King. Back in the day, the Daughters were responsible for all altar duty, vesting of clergy, brass and silver polishing, and just about everything necessary to support the worship experience of this Cathedral parish.
On becoming a Daughter, I chose to learn altar duty as my area of service. I apprenticed for a while with more experienced women until I felt a certain confidence in what I was doing. Almost immediately, I began to feel the sacred aspects of this work, preparing the bread and wine which ultimately became the body and blood of our Lord. I began to learn the strange names of vessels, linens, and vestments. I could appreciate and understand more of our liturgical traditions and that knowledge enhanced my own worship experience. Initially, I was very apprehensive about this work, always afraid I would make a mistake or do something terribly wrong which would never be forgotten or forgiven. In time, I gained the experience which developed the confidence I needed. I did make some mistakes, but I had some laughs as well. I had a lot to learn and that learning experience is still ongoing today, some thirty years later.
Currently, I am serving as Co-Chair of the Altar Guild along with Mary Mercer. It is a joy and a privilege to work alongside this group of dedicated men and women (we are no longer exclusively Daughters of the King). And only a few of us wear the purple smocks, but we are all learning and growing as we seek to do the work God has given us to do with grace. We would love to have you join us! —Fay Swennes
---
Prayer Corner During Lent
During Lent this year, the Prayer Corner will feature stories of ways we are present to God and others. Many of these features will include stories about activities that happen during the week, outside the services on Sunday mornings. If you inquire, parishioners will share how important these interactions with their fellow Cathedral members are. How they shape their faith and spiritual journey in meaningful and sustaining ways. The theme is taken from the Wednesday evening series "Present Over Perfect" as we explore and learn of ways to be present to God and to the people who matter most to each of us. —Kimberly McOmber
---
---
From last year:
Prayers of Life
Feeling the vibration of my phone alarm, I glance down to see the familiar, "6:00–Prayer Alarm" and slip off to the nearest empty Craps table in a Las Vegas casino to close my eyes and pray. It must be an odd scene to those monitoring the security cameras, to say the least.
My watch word in life is "intentionality" with the primary focus, my spiritual practices. Day-to-day life revolves around my spiritual life instead of the other way around, and it takes intentionality to make that happen. This is especially true of my time apart in prayer.
At the heart of things, I am a very practical person and try to be realistic about what I am truly capable of. Instinctively turning aside for regular prayer time during a busy day (read here–everyday) is never going to happen without some kind of structure. Enter my phone and watch alarms.
By design, the notifications are 10 a.m. and 6 p.m.—the most challenging times for such things. It's a way of stretching myself to a tiny bit of growth each day—hence the casino scene, a true story. After many years it can still be a struggle that I don't always win but of which I'm always aware.
The second part of this intentionality is the structure and words I have chosen for each time slot. Having this part helps me to fend off "monkey brain" and the wandering mind. This doesn't mean I don't at times go "off script" but it gives me a place to start and allows me to quickly shift into sacred mind space. I treasure being able to pray at my Prie Dieu (prayer desk) but I can just as easily find that mental sacred space anywhere.
So next time you see me and it's 10 a.m. or 6 p.m. and I seem to have mentally drifted away—not to worry—I'll be back in 7 minutes!
—Beth King
---
Come, Holy Spirit!
The word prayer comes from a Latin root meaning "to entreat."
The eighth century-prayer, "Veni sancte spiritus," "Come Holy Spirit," is sung by the Spanish monks of Santo Domingo de Silos. Seven times a day every day of the year, like their brothers in faith for over 1,500 years, these monks pray through Gregorian chant.
During my years at Vanderbilt Divinity School, I went on retreat to Gethsemane monastery in Kentucky. Among the abiding images of those journeys is that of the monks faithfully showing up, entreating on behalf of the world, year in, year out. In my practice of prayer, I have learned to care less about whether I "feel like" praying, or about particular reasons for prayer, and to care more about showing up, being present, bringing all of who I am to the moment. These days I don't much distinguish between prayers of petition, intercession, gratitude, lament, and so on. From mindfulness practice I have learned the importance of being present to the moment, whatever it may bring.
And prayer is like that. Each moment, each breath is filled with "ruach," "pneumas," with, that is, the presence and advocacy of the Holy Spirit. Wherever we are, however we think we ought to be in prayer, the fact is we just need to show up and do the best we can do. It's like being in a family. It's like being church.
—The Rev. Dr. Bill Harkins
---
Intercessory Prayer
I believe that I am not alone in having gotten the impression from childhood that "prayer" is intercession. So, when I am asked to pray for someone, I feel the "weight" of responsibility for making exactly the right request. What if I ask God for the wrong thing, and God does it?
Putting this question into words makes me laugh and helps me realize that the point of intercessory prayer is not to tell God exactly what to do. After all, God knows far better than I what is needed in any given situation!
When I am praying for someone I know, I first bring the person to mind. I think about what I know about her and what her needs might be. I imagine holding the person in my hands and lifting her up to God. If the person has asked for something specific, I offer that request. Sometimes, I feel that the Holy Spirit helps me know what to ask for. I always ask God to help the person be aware that God is with her in any situation. As a hospital chaplain, I am often asked to pray with strangers. I may ask the person what he would like me to pray for. I believe that it is always appropriate, whether I know the person or not, and whether or not the person can articulate her desire, to pray for "God's best." Many times as I hold the hand of a patient, I ask that God would be "as close as our hands touching"—because I am convinced that if we can truly have "God's best," whatever that may be, and we can truly have God's presence, we will have all that we need.
—Diane Otwell
---
Cathedral Prayer Lists
The Cathedral is a "house of prayer for all people"—it's true—it says so at the main entrance! If you look at the prayer list in the Times or the Sunday service leaflet, you will notice that Cathedral members are more likely to ask for prayers for friends than for themselves! Well, please don't be shy because there are lots of ways we pray for those in need.
There is a "Chapel Prayer List" that is used in Mikell Chapel for morning and evening prayers, and in St. Mary's Chapel for the Friday Healing Eucharist at 12:15 p.m. While the chapel prayer list is not private, it is not seen by as many people as is the Sunday prayer list.
"The Sunday Prayer List" in the service leaflets is virtually the same as the prayer list in the Times, except for the changes necessitated by different print deadlines.
Finally, we also have a "Private Prayer List" that is seen only by clergy and staff at our Pastoral Care meetings. Some people are very private, or just can't handle a deluge of phone calls and questions during a difficult time.
Please don't hesitate to contact someone in the pastoral care department so we can add your name or the name of a loved one (Please note: you must have permission to place someone's name on any of our "public" prayer lists!).
The pastoral care department is led by the Rev. Wallace Marsh, canon for pastoral care. The Rev. Carolynne Williams continues to serve pastorally, as does our deacon, the Rev. Juan Sandoval. I am the administrative support for pastoral care programming, and am probably the easiest to reach by phone! So feel free to call me with questions and requests at 404-365-1034.­
—Jeannie Mahood
June 18, 2017
---
Praying the Prayer List
Morning Prayer is read at 8:45 a.m. every weekday morning in Mikell Chapel, with special emphasis on reading the prayer list aloud. Those of us who read on Saturdays are usually alone. The complete Cathedral prayer list is divided into sections: those who are critically ill or in the hospital, those who have long-term concerns, those who are friends or family of Cathedral members and, finally, those who have made private requests. The private concerns of over twenty requests are listed by first name only.
It was during the reading of the last list out loud alone in the chapel one Saturday that I had an epiphany. After the third Bill and the second Mary, I realized that not only did I not know who the requester was, but I also didn't know for what the request was made. By lifting the name aloud to the top of the chapel, I became a prayer conduit for the Holy Spirit. Looking at all the sections of the entire prayer list, there were only a few names I recognized, and for most I didn't know the purpose of the request. By simply stating the name, I became a representative of the total Cathedral membership lifting each request up to the Lord. The prayer shifted from a printed list to a spiritual conversation with the Holy Spirit. I and my fellow prayers are the conduit. For me, the reading of Morning Prayer is no longer a committed obligation. It is a liturgical office through which I become a thread in the spiritual fabric of the Cathedral community.
­—Len Wagner
June 11, 2017
---
Welcome back to the Prayer Corner, a space in the Times where we share ways we lift our thoughts and words to God in prayer. The Spiritual Formation and Nurture Committee introduced the Prayer Corner last summer and we learned many different ways parishioners and clergy integrate prayer into their busy daily lives.
This summer the Prayer Corner will focus on intercessory prayer. Described as "requests for God's blessing and healing grace for others," we will learn about intercessory prayers within our services and in many other places in our lives.
Have you ever looked at the prayer list in the service leaflet on a Sunday and wondered, "Where do I begin?" Or has a friend, after sharing a concern with you, finished by asking for your prayers for a loved one or themselves? While your response is "of course," you may be thinking "what do I do now?"
In the coming weeks, parishioners and clergy will share their thoughts and practices about praying for others. We hope you will find something you can try for this first time or something you can revisit with renewed energy.
—June 4, 2017
---
---
From 2016:
Welcome to our summer Prayer Corner, where Cathedral members will share some of our favorite ways of praying. We hope this corner offers a way to stay connected over the summer and explore different ways of thinking about and practicing prayer.
To this end, I'd like to begin by offering a practice that has been helpful for me: praying in community. That is what we do every Sunday here at the Cathedral, of course! But I also pray with others in an Episcopal service at a prison, on quiet days and retreats, in Taizé, on facilitated labyrinth walks, and in Bible studies. In each of these settings, I have been transformed by the power and the intimacy of shared prayer. I have seen random strangers grow into a beloved community. Praying in community, especially with my incarcerated sisters, I have discovered time and again the Holy Spirit praying in me, and I am learning bit by bit to rest in God and in the loving care of others.
This summer, as many of us step out of our usual routines, consider stepping out also in prayer, by praying with different people, in different places, and with different practices. The Holy Spirit will not disappoint you!
—Canon Cathy Zappa
June 5, 2016
---
Several years ago on a retreat, the Friday evening session was closed using a night prayer. Also described as Compline, a similar offering of prayer can be found in the Book of Common Prayer on page 127. The version we used that weekend and which I continue to use is from the New Zealand Prayer Book and is printed on a well-worn and loved trifold piece of paper which I keep by my bed.
I think the service is meaningful to me because I grew up attending a summer camp that ended the day with a vespers service on the dunes overlooking Lake Michigan. Those summers were very formative for me as a person and those services taught me to bring my day to a close with gratitude and wonder at the amazing beauty of my surroundings.
The service includes readings, psalms, and prayers; so I often just do a portion, not the whole thing, depending on what is going on in my heart and head, and also how tired I am at the end of the day.
There are two specific sections that resonate with me and so I pray them regardless of time limitations or location:
It is night after a long day. What has been done has been done; what has not been done has not been done; let it be.
The night is dark. Let our fears of the darkness of the world and of our own lives rest in you. Amen.
—Kimberly McOmber
June 12, 2016
---
Daily Devotions with Calhoun
I try to start most days with a few readings from Forward Day by Day publications, and the Book of Common Prayer. First, I say, "Calhoun, let's say prayers" and my 75-pound Briard jumps on the bed. I read two short passages from the Forward Movement publication Prayers New and Old. Next, will be the daily reading from Forward Day by Day. Each month there is a different author. Finally, I will read a Psalm from my late father's 1928 Book of Common Prayer.
The results of each day's readings tend to differ. Some days the Psalm is read easily and understood; some days only words are seen on a page and are quickly forgotten. Some weeks I will reread a Psalm for a number of days to see if I can finally get something from it. With my Forward Day by Day reading, I look forward to the various messages that I will find each day. This daily routine is very meaningful to me.
—Stuart Arey
June 19, 2016
Note: Forward Day by Day is published quarterly and is available in the Cathedral Book Store.
---
In my 56 years, the thing I have done to most improve my life has been to answer the call to a regular meditative centering prayer practice. This practice is like regular exercise—once you experience the benefits, you wonder how and why you ever settled for so much less. Sharing this practice with my wife is a great blessing.
I like to start my day with a variation of the morning office in the Book of Common Prayer. Over the years I've memorized favorite collects, and I enjoy the baptismal prayer, because I want an inquiring and discerning heart, and I treasure the gift of joy and wonder in all God's works.
At work, I hear the Angelus Bells ring at noon. I find checking in with my breathing and my Lord at midday, after a morning of swearing and scurrying, makes this religion business come alive for me.
Finally, I've tried memorizing a psalm a week. This project has fizzled out twice, but left me with a working body of about a dozen psalms. You can't go wrong with trusty #23, and praying it repeatedly is helping me believe that it is true.
---
"This is the day that the Lord has made, let me rejoice and be glad in it." I begin most mornings greeting God before getting out of bed singing this little song.
I often keep the Book of Common Prayer on my bedside table, reach for it and read "In The Morning" on page 137 from the Daily Devotions for Individuals and Families. Or, I read a few prayers beginning on page 814 in the Prayers and Thanksgiving section. For me, it's a nice way to begin the day. God is present.
All through the day I do what I call 'surface prayers' – giving thanks to God; praying for family, friends, and people for whom I have been asked to pray; and praying for trouble spots in the world and for disaster victims.
This past year our family has had several serious medical issues; being on the receiving end of prayer has been ever so powerful. The peace of God and presence of God has been known in cards sent, meals brought, phone calls received, help and assistance freely given. We have been truly blessed. Thanks be to God.
—Roberta Williamson
July 3, 2016
---
Prayer for me is always an enlightening time of reflection and resolution that draws me closer to God. It involves carefully listening and recognizing how God responds to life's challenges and the ability to recognize the power of his grace whether that be in a momentary experience, a chance meeting, or an enlightening new perspective evolved over time. It involves being alert and keeping my lamp filled with oil.
Prayer involves the challenge to draw on the power of the Holy Spirit that lives in each one of us, to deal with contemporary issues of hatred, injury, doubt, discord, despair, darkness, and sadness. A prayer that models this challenge, and provides me with a powerful starting point and action piece for each issue, is the prayer attributed to St. Francis, found on page 833 of the Book of Common Prayer:
Lord, make us instruments of thy peace. Where there is hatred, let us sow love; where there is injury, pardon; where there is discord, union; where there is doubt; faith, where there is despair, hope; where there is darkness, light; where there is sadness, joy.
Grant that we may not so much seek to be consoled, as to console; to be understood, as to understand; to be loved as to love. For it is in giving that we receive. It is in pardoning that we are pardoned and it is in dying that we are born to Eternal Life.
I use this prayer in an effort to keep my lamp filled with oil and to move forward in my prayer life with a renewed sense of purpose and direction.
---
Prayer, for me, grows from a theology of presence. God is everywhere, always, "above all, through all and in all" (Ephesians 4:6b). In Psalm 139, the Psalmist sings, "Lord you have searched me out and known me … where then can I go from your Spirit?" Prayer for me is an ongoing, never-ending conversation within this intimate friendship.
My day begins. "…Be still and know that I am God" (BCP p. 832, #59). The time, first hour, is always there though it varies in content. Daily lectionary readings, prayer in many forms, and holy reading lead to silence, listening, mindfulness. Often a candle, cup of tea, music are part of my practice.
All day, brief bursts of praise, thanksgiving, and intercession continue. Food, all nature, family, friends, concerns, petitions, call out in response to the grace of God's presence. "This is the day the Lord has made; let us rejoice and be glad in it."
Night shadows fall. Contemplative silence leads to rest in God.
---
Solvitur ambulando: It is solved by walking.
Much of my prayer life these days happens while I am running or walking. The rhythmic pattern of my feet touching the ground and the movement of my body through space carries me from external awareness to an inner place of quiet.
In the quiet I am able to listen not to my own thoughts but to those that God brings forth through my heart. I believe that God plants our prayers deep within us, and when we can find a place of stillness, we are able to hear that prayer as it unfolds in us and pray it back to God as our heart's deepest desire.
Often, as I begin my walk or run, I start with a practice of gratitude in which I give thanks for the ordinary things like breath and mobility and sight and life itself. This opens my heart to God in a way that I am able to see more clearly the gifts and graces of everyday life that I so often take for granted.
Other times, I begin with something on my heart that needs attention: a sorrow, a thanksgiving, a fear, a worry. When I start this way, I try to name what I carry and then let it go to be carried by the rhythm of the walk. It is when I can become unattached to the outcome that a sense of peace, or at the very least, some internal shift might occur.
It is when I stop trying to "solve" that God can work in me and help me to know that God walks with me though all of it. It is this deeper remembering that gives meaning to the phrase, "Solvitur ambulando," it is solved by walking. When we walk with God we are not walking alone.
—Barbara Pendergrast
July 24, 2016
---
Life moves so fast sometimes. I frequently fall into not making enough time to pray. The one time and place I've been able to be most active in my prayer life is while I'm in the car. It's the one part of the day that I can truly be alone. I don't mean the "Please, God, please, don't let that cop see me going too fast" or "Why, oh, why, God, is Atlanta filled with awful drivers?" prayers. I take my commute to work and my road trips to really sit down and have a conversation with God. God is my traveling companion. I tell God about my day, what's troubling me, what I'm excited about. I tell God about everything, really. It's like taking a ride with your best friend. God is there to listen to what I have to say, and in those times, God reminds me that while I may not have the most reverent place to pray, I don't necessarily need it. God is always there to listen.
---
I am a person of structure. I try to maintain order throughout the day and work week. I live by my calendar.
However, the calendar comes under attack. At work, I have to adapt for pastoral emergencies. At home, there is a wife with a demanding job, two young children (ages 3 and 1), and an emotionally needy dog. At times, I wonder why I even bother keeping a calendar.
One of my former spiritual directors encouraged me to use my calendar to create balance in life. He said schedule everything: workouts at the gym, daily walks with the family, and even personal prayer.
Yes, there is a place in my calendar for prayer.
When my physical and spiritual health are in check, life is in balance. When I become frustrated, anxious, or spiritually agitated, it is because I have missed one of those important appointments.
Schedule time for prayer.
—Canon Wallace Marsh
August 7, 2016
---
As a mother of two young boys, Alex (7) and Sam (3), I am always looking for a balance between keeping myself spiritually awake and helping my sons begin to develop spiritual toolkits of their own. For me, the foundation for each is the Book of Common Prayer (BCP).
Dawn is my time. Looking for a way to pray in community but also without having to leave the house, a few years ago I came across a daily podcast of Morning Prayer produced by an Episcopal parish in Garrett County, Maryland. I like to rise while it is still dark and pray with that podcast, imagining so many others doing exactly the same thing on their own porches, or before their own kitchen windows— I am praying physically alone, but also in community.
I close the day praying with the boys. We take the BCP Compline liturgy (p.127) as our base. In summer and on weekends during the school year, we often read it completely, rotating the role of Officiant from night to night to keep them particularly engaged. One of the beauties of this liturgy though (especially as an introduction to daily prayer) is its adaptability to abbreviation. On long hard days, it is easily shortened, in a variety of ways. It ends with the Song of Simeon accompanied by an Antiphon. Sometimes, that Antiphon alone is enough.
Guide us waking, O Lord, and guard us sleeping; that awake we may watch with Christ, and asleep we may rest in peace.
—Mary Caroline Cravens
August 14, 2016
---
While I do incorporate technology and aspects of modernity into my prayer life by using an app called "Pray As You Go," I find the Daily Office in the Book of Common Prayer is where I can be most deeply pulled into prayer. There's just something about the way that these offices allow me to lose myself in their familiarity—even after a long and stressful day, "We who are wearied by the changes and chances of this life may rest in [God's] eternal changelessness" and in the near changelessness of the Prayer Book (BCP 133). Knowing that these offices have been prayed by countless others for years, are being prayed as I pray them, and will be prayed for years to come, reminds me that prayer is bigger than just my relationship with God—but is formed by and connected to community. And there always seems to be a Prayer Book nearby.
—Clayton Harrington, Seminarian
August 21, 2016
---
I have this annoying habit of getting to the end of a day still thinking about something that went wrong. It's not a lot of fun and, frankly, not very helpful—particularly if things really are going wrong!
There is another way, though.
St. Ignatius Loyola's Prayer of the Examen has given me a different way to look at my days. It helps me to feel gratitude for all of the things that went right, to face up to those things that have gone wrong, and to get a sense of where I will need God tomorrow.
You can find several different versions of this prayer. I use the one described by Jim Manney in his book, "A Simple, Life-Changing Prayer: Discovering the Power of St. Ignatius Loyola's Examen."
It's simple, really. It only takes about 15 minutes. It's not easy, though. Real prayer rarely is.
But, it can be fun. It turns out that, at least for me, things are rarely as I remember them to have been.
---
This summer's "Prayer Corner" has been a glorious celebration of prayer! We heard from Cathedral members about centering prayer, praying in silence, praying while walking or gardening or driving in Atlanta, and praying as an ongoing conversation with God. We remembered the blessing and power of being on the receiving end of others' prayers. We shared favorite prayers and helpful resources, from the Psalms to mobile apps to the many resources of our Book of Common Prayer: the Daily Office, bedtime compline, the prayer attributed to St. Francis, and the "Prayers and Thanksgivings."
This column has been a refreshing reminder that our prayer lives are as diverse as we are, and that God welcomes us, however we choose to come into God's presence.
Thank you to all who have contributed. Thank you to Kimberly McOmber, who provided the inspiration and leadership for this column.
If you missed any of this summer's reflections, you can find them online at stphilipscathedral.org/prayercorner. Look for the Prayer Corner again in the fall!
—Canon Cathy Zappa