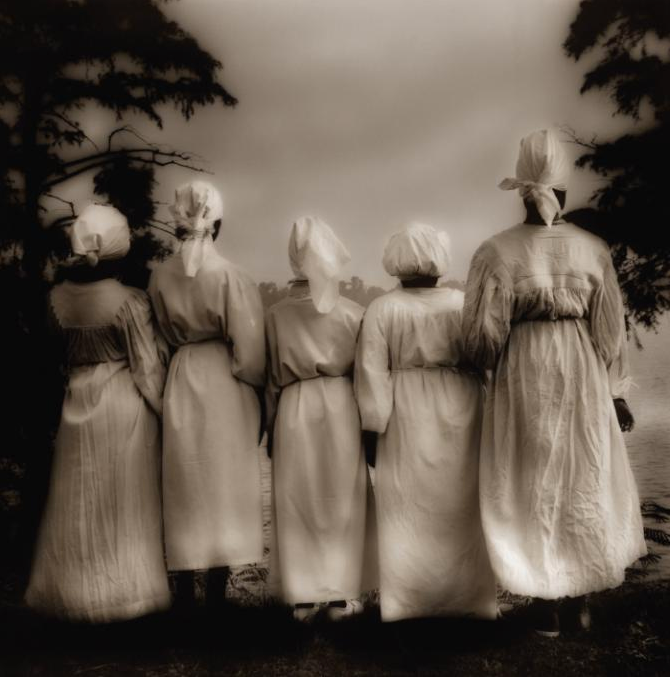 As part of the Cathedral Art Committee's rotating exhibitions in the Atrium, we are honored to present two loaned exhibitions from the Donna and Jim Philips collection. The theme of their collection Preachers and Leaders captures a wide range of hope, love, and forgiveness through the lens of some of our most important photographs of the 20th century. Within the exhibition, images of Civil Rights marches, baptismal scenes, and Sunday morning rituals come alive. One begins to examine everyone's role within their faith, not only as a participant but as a leader within their community. Iconic portraits of key figures, such as Martin Luther King Jr., Albert Schweitzer and Billy Graham, stand side by side with devout believers, emphasizing everyone's greater role.
The artist Terri Garland found herself in the city of New Orleans months after Hurricane Katrina desecrated the city. Walking through Central City and the Lower Ninth Ward, Garland began exploring the damaged churches within those areas. It was there that she found these Bibles and prayer books that had been pulled from their mud-caked pews and condemned church floors. Through The Good Books, Garland interprets these images as relics of former communities of faith and fellowship. These serviceable books bound neighbor to neighbor in the shared act of thanksgiving and worship. The elements of water, earth, and air have irrevocably altered these books and their purpose. Nature has taken these ruined books of worship and transformed them into water-logged objects of color and texture.
Thanks to Anna Walker Skillman and Jackson Fine Art for their help in curating these exhibits. If you are interested in donating one of the pieces to the Cathedral, please contact David Rocchio at 404-365-1033 or drocchio@cathedralATL.org. If you are interested in personally purchasing one of the works for your collection, please contact Coco Conroy at Jackson Fine Art, 404-233-3739 or coco@jacksonfineart.com.
---