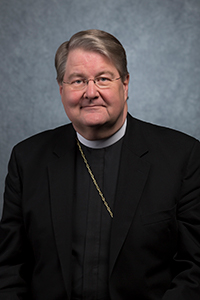 This Sunday, March 5, we welcome the Right Rev. J. Neil Alexander, Th.D, D.D., as guest speaker at the Dean's Forum at 10:10 a.m. in Child Hall, giving a presentation titled "The Birthright of the Baptized: Growing in Faith From the Cradle to the Grave." He will also serve as litanist at the 8:45 a.m. and 11:15 a.m. services. Bishop Alexander, who served as bishop of the Diocese of Atlanta from 2001 to 2012, is the dean of the School of Theology at the University of the South, Sewanee, Tennessee.
---
Bishop Alexander was appointed dean of the School of Theology on June 26, 2012. He is also professor of liturgy and the Charles Todd Quintard Professor of Dogmatic Theology.
His long relationship with Sewanee and the School of Theology began as a sabbatical replacement for the Rev. Dr. Marion Hatchett, professor of liturgics and music, in the early 1980s. He later joined the faculty in 1997 teaching liturgics and homiletics and was the first Norma and Olan Mills Professor of Divinity. From 2009 to 2012, Alexander served as the University's 23rd chancellor.
Alexander was elected the ninth bishop of the Diocese of Atlanta and served from 2001 to 2012. During his time as bishop, he focused on growing new congregations and ministries and developing an efficient communication strategy for the diocese. He led multiple pilgrimages and mission trips to dioceses in Africa and placed a special focus on relationships with global-south dioceses.
Alexander has served in a variety of parish settings and has taught at The General Theological Seminary, Yale University, Drew University, and Waterloo Lutheran Seminary. He has been a board member of the Episcopal Preaching Foundation and a faculty member and chaplain of the Preaching Excellence Conference of the Episcopal Preaching Foundation. He is the president of the Board of Directors of the College for Bishops. He serves as the chair of the board of the Archives of the Episcopal Church.
Alexander is a graduate of the University of North Carolina School of the Arts, Moravian College, and the University of South Carolina. He earned a master of divinity from Lutheran Theological Southern Seminary and a doctor of theology in liturgics from The General Theological Seminary. He is the recipient of two honorary doctorates.
The author of numerous publications in the fields of liturgics, homiletics, sacramental theology, and pastoral practice, his most recent publication, Celebrating Liturgical Time: Days, Weeks, and Seasons, a commentary on sacred time as expressed in the rites of the Book of Common Prayer.
---