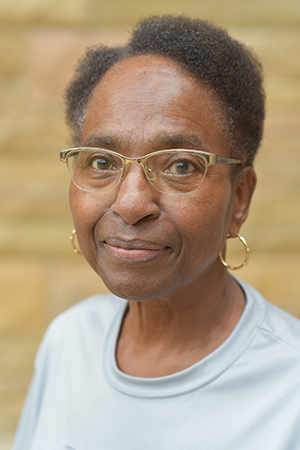 Greetings all,
I am writing to tell you officially that we have finally allowed Brenda to retire.
She tried to do this several times before. The script had become familiar. She would say it was time to go, we would beg and whine, and she would agree to stay just a little while longer!
We pulled out the script this time too, but she gave us that look. So, we relented.
It's hard for me to think about the Cathedral without Brenda as part of the picture.
She was the first thing I saw every morning for so many years as I walked from my parking place past the kitchen windows. No matter what time I arrived, Brenda had already been here for hours. Brenda is featured in my memories of Wednesday supper, the Homeless Requiem, the Shrove Tuesday pancake supper, and so many more of the sacramental meals that fueled our parish life. It was like having your own meat and three, with a full salad bar!
When downturn of the economy forced us to close the kitchen, Brenda moved to our housekeeping staff and when we needed someone to care for our liturgical linens, vestments, and tablecloths Brenda took over the laundry.
She always did whatever we asked her to do and she always did it in a way that made everybody else around her better.
We will miss her.
Please join me in saying thank you to Brenda Forts for twenty-one year of grace, excellence, and hospitality.
If you would like to send Brenda a card, letter, or other thanks, just get it to Ivory Richardson and she will pass it on to Brenda.
The Rev. George Maxwell, Jr.
Vicar
---