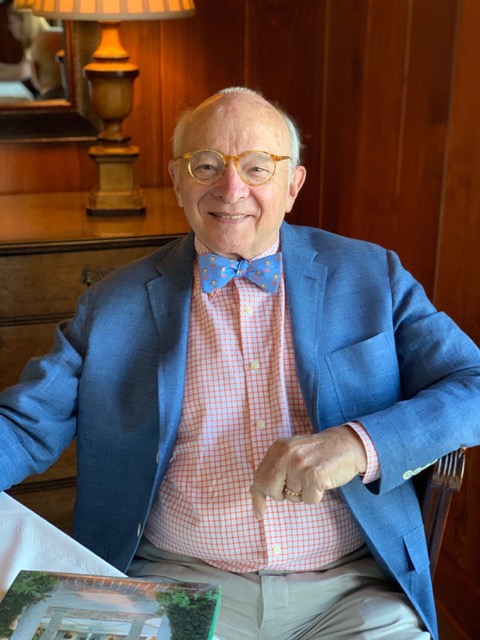 The 2021 Cathedral Antiques Show committee is honored to announce Norman Askins as our honorary design chair.
A native of Birmingham, Alabama, Mr. Askins holds a Bachelor of Architecture degree from Georgia Institute of Technology and a Master of Architectural History from the University of Virginia. He also attended a summer session at Parsons School of Design, New York City and the Attingham Park Summer School, England, where he studied the architecture and decorative arts of Great Britain.
Following graduate school, Mr. Askins served four years as architect and architectural historian at The Colonial Williamsburg Foundation where he received in-depth training in early building technology and the philosophy of restoration. While at Williamsburg, Mr. Askins was fortunate to be assigned to a yearlong special project to redesign much of the interior of the Executive Office Wing of the White House (Cabinet Room, Vice President's Office, etc.).
Following two years in Atlanta with Heery and Heery Architects, Mr. Askins accepted a position in 1974 with John Milner Associates, West Chester, Pennsylvania, the nation's largest and foremost preservation/restoration firm. As Director of Restoration, he oversaw a wide variety of preservation projects in the Eastern and Southern regions of the country.
In the fall of 1977, Mr. Askins established his own practice in Atlanta, Georgia, specializing in historic preservation, restoration and residential design. The firm's scope of services ranges from period residences to vacation cottages, plantations, and innumerable additions to existing homes across the U.S., Ireland, and France.
In addition to his professional career, Mr. Askins has served on various arts/preservation organizations: as chairman of Friends of the Decorative Arts at the High Museum, on the Board of Governors for Rhodes Hall, on the board of Cherokee Garden Library, and on the board of the Southern Architecture Foundation.
---