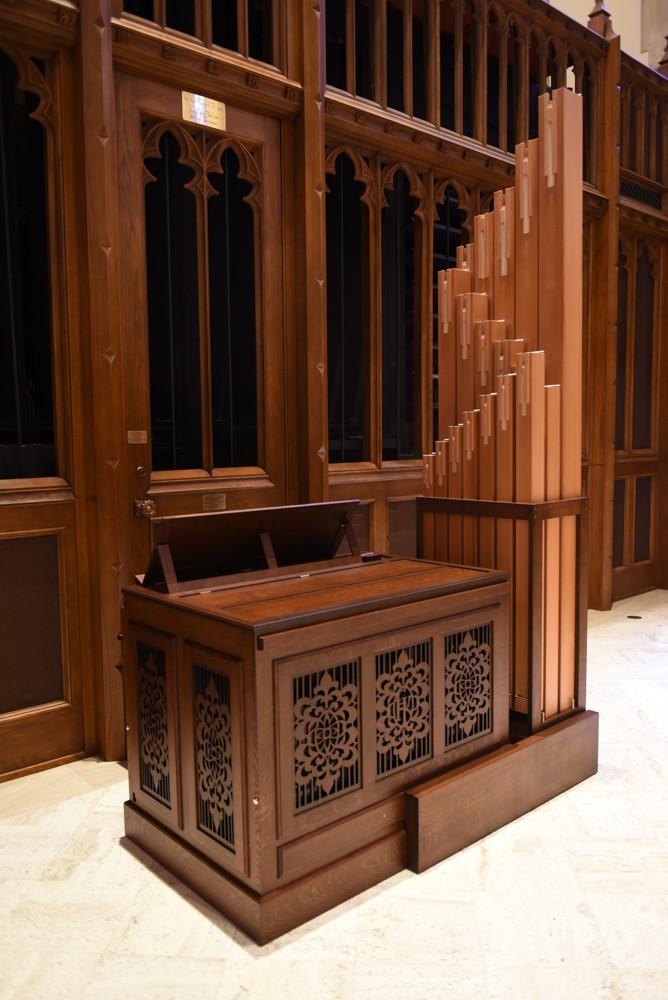 All are invited to witness the sacred dedication of the Cathedral of St. Philip's new six-stop continuo organ during Evensong this Sunday, September 30 at 4 p.m. The sound of this beautiful instrument is considerably more delicate than our principal organs in the Cathedral Nave and Mikel Chapel, since the pipes are much smaller and are scaled specifically for the performance of early music. The new continuo organ will find frequent use not only for concerts of baroque music, but also in the accompaniment of the Tudor and Restoration anthem repertoire that the Cathedral Choirs regularly offer during worship.
The organ (sometimes called a portativ or portatif organ) is the gift of the Moore-Wilkerson Concert Series Fund of the Cathedral of St. Philip Endowment, established in 2008 by a bequest from the estate of the late Lee Moore, Jr. The instrument was custom-built for the Cathedral earlier this year by Henk Klop in The Netherlands, whose firm is internationally renowned for the extraordinary artistry of its continuo organs. Its acquisition is a lasting memorial to the donor, and it is truly a magnificent enhancement of the Cathedral's rich musical resources. We are thrilled to have it, knowing that many generations to come will delight in the beautiful music made upon it.
Details about the organ's disposition are available at cathedralATL.org/organs.
---