A Lenten Quiet Day
Saturday, March 16, 2019
The Lanier House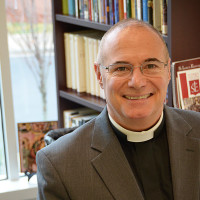 For thus said the Lord God, the Holy One of Israel: In returning and rest you shall be saved… Isaiah 30:15a
Give yourself a day of quiet and prayer as you prepare your heart for Easter. The Rev. Buddy Crawford, senior associate rector at Holy Innocents' Episcopal Church, will lead the program. Buddy is a familiar face here at the Cathedral; after his ordination he served on staff as assistant for pastoral care.
Lent is often focused on making penance, being sorrowful for failings, and confessing sins - what we think of as the work of repentance. However, the words in Hebrew "teshuvah" and Greek "metanoia" translated as repent literally mean "to turn" or "to return." The parables in the Hebrew and Christian scriptures invite us to change directions in our hearts and minds. This "turning" is the first step that leads us back to fullness of life in God. The day will include time in silence and meditation, praying the scriptures, walking the labyrinth, and other creative activities.
The Quiet Day will take place in the Lanier House on the Cathedral campus, 9:30 a.m. – 2 p.m., Saturday, March 16. The cost is $20 and includes lunch. Please register by contacting Jeannie Mahood, jmahood@cathedralATL.org or 404-365-1031.

---