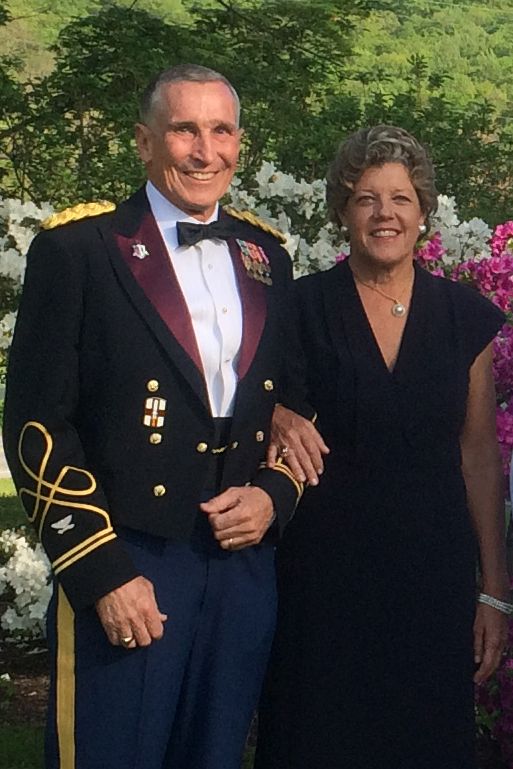 2018 Cathedral Antiques Show co-chairs Beverly Gwynn and Dabney Hollis are pleased to announce Nancy and Randy Rizor as honorary chairs of the show. The Rizors exemplify service, to the Cathedral and the broader community.
Nancy and Randy have been involved in many facets of Cathedral life since joining in 1990, including serving as Chapter and Finance Committee members, children's Sunday School teachers, and confirmation leaders. Randy has also served as an usher and Boy Scout leader, while Nancy has chaired the Altar Guild for decades and the Antiques Show twice.
When asked about their greatest contributions to the Cathedral, Randy said working with the Boy Scouts has been the "greatest single volunteer contribution of my life," and that spending time with the boys is energizing and something he always looks forward to.
Nancy's introduction to Altar Guild was as a young girl, when she helped her mother at the Episcopal church where she grew up. She has chaired the Cathedral's altar guild for twenty years and feels a sense of peace and closeness to God when she's doing that work. The liturgy and music are some of the aspects of the Cathedral that the Rizors love most.
The Rizors' commitment to service extends beyond the Cathedral, as Nancy serves as chair of the board of All About Developmental Disabilities and Randy as a colonel in the Army Reserves, having served two tours of duty in Iraq. Randy will also be president of the Medical Association of Atlanta and is very active in the Medical Association of Georgia.
Nancy says, "The Cathedral Antiques Show is a unique outreach effort. We have provided financial support and exposure for many worthy nonprofits in the Atlanta area over the years, as well as creating community in our Cathedral family."
Further, Nancy says about the 2018 beneficiary: "A.G. Rhodes Health and Rehab is a wonderful choice for 2018 beneficiary. There is a great need to serve our elder population, particularly those with dementia. As our population ages, the incidence of Alzheimer's and other dementias will continue to increase. Many of our Cathedral members have been touched by Alzheimer's, either through a family member or friend."
Randy and Nancy met in Charlottesville, Virginia where Randy was an associate professor of anesthesia at UVA and Nancy was head nurse in the emergency room. They were married in a small, historic Episcopal Church, and moved to Atlanta in the 1980s.
Professionally, Randy is an anesthesiologist in private practice specializing in the rehabilitation treatment of musculoskeletal injuries and pain. Nancy is a realtor with Atlanta Fine Homes Sotheby's International Realty. They have two adult sons, Crawford and James. Randy and Nancy both love horses, fishing, hunting, and "just about anything outdoors."
The 2018 Cathedral Antiques Show will be held January 24–27, 2018.
---