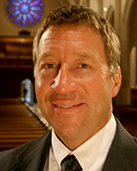 Think Evensong isn't for you? Well, if you ever resonate with the choirs' musical offerings on Sunday morning, you will find Evensong to be an especially rich revelation of the glory and presence of God. During much of the coming season we will be observing feast days on Sunday afternoons, rather than re-using the Bible readings from Sunday morning, so the lessons, homily, and much of the music will focus on a major saint's day or feast day. With the exception of a homily and several hymns in which the congregation joins, Choral Evensong is almost entirely sung by the choir, which means the tone of the service can vary dynamically from week to week—it may be overflowing with exuberant praise one Sunday, and rest in contemplative reflection the next.
Evensong is a uniquely Anglican form of worship, conceived in the 16th century as part of the English Reformation, but its roots are actually the much more ancient daily prayer offices of Vespers and Compline. An enormous portion of the most glorious sacred choral music written in the English language over the past 450 years has been composed specifically for this service. We are one of the very few American cathedrals blessed to be able to offer this form of worship on a weekly basis, September through May. On a few special occasions, a fully Choral Eucharist or a service of Lessons and Carols is celebrated in place of Evensong, but whatever the form of worship, there is always glorious music, most often preceded by a recital at 3:15 p.m. featuring the Cathedral's magnificent and historically important Aeolian-Skinner organ.
A growing number of people are making Evensong their principal Sunday service: it lasts just under an hour, and provides the option to stay for a lovely, intimate service of Holy Communion at the high altar, which follows Evensong immediately and lasts another 15 minutes. And if you are unable to attend services on a particular Sunday morning, Evensong provides a great opportunity to "worship the Lord in the beauty of holiness" (Psalms 29:2 and 96:9) later in the day. It's also a wonderful way to introduce your friends to the Cathedral! Our weekly 4 p.m. Sunday choral services resume this week, September 13.
Dale Adelmann, Canon for Music
---