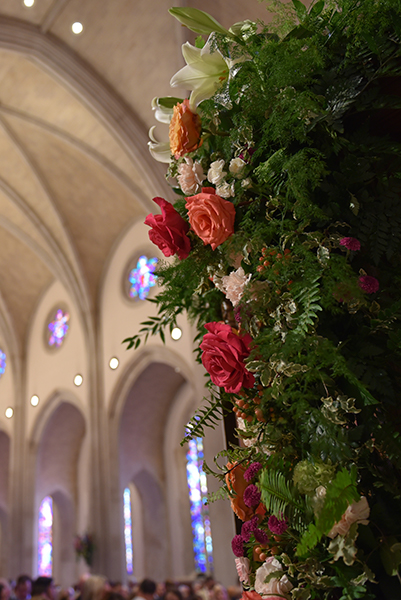 If you love flowers and you love the Cathedral, you possess all the requirements to be a valued and successful member of the Flower Guild! We are seeking new members of all experience levels who are available to help prepare altar flowers every other month, and at Easter and Christmas. If you are new to the Cathedral, this is a perfect opportunity to meet other members.
Email to sign up or join us on Tuesday, October 3 at 7 p.m. in the Cathedral to find out more about what we do and how you can find a spot that's right for your skill level and availability. Opportunities for additional training are already planned. You'll enjoy developing your expertise and making wonderful new friends.
The Cathedral Flower Guild is responsible for providing flowers in all worship spaces at the Cathedral. We arrange flowers for 3 to 5 altar areas each week, along with weddings and funerals. The Flower Guild designs and arranges the flowers for festivals such as Christmas and Easter, and for Cathedral and diocesan special events and receptions. And the Flower Festival, produced as part of the Cathedral Antiques Show, is an annual highlight that brings the guild together for fellowship, creative work, and the chance to learn from outstanding designers from the U.S. and Europe.
For more information, email Flower Guild co-chairs Grace Foster, cspflowerguild@gmail.com, or Laura Iarocci, laura@faithflowers.com.
---