An article for the Cathedral Times
by Keith Dumke, Director of Youth and Young Adult Ministries
Sunday, July 10, 2022
One of the benefits of working on the Cathedral staff is that when you have an opportunity to take a break, you can use that time to wander the beautiful grounds that surround this place. On a recent walk around the Cathedral, the inscribed stone honoring the memory of Rev. R. C. Foute, the priest of the former location of the Cathedral from 1875-1883, caught my eye. He chose this inscription to be placed over the doorway of that church:
"The Rich and the Poor Meet Together, The Lord is the Maker of Them All."
I read this as a welcome sign to all – sending a clear message that St. Philip's was established, from its very inception, as a place that would welcome people from all walks of life. Reflecting on this inscription made me stop and think – do we, as the Cathedral community, still carry on this commitment?
My answer is yes, I believe we definitely do!
When I started in my role here, I was immediately introduced to the virtues that we try to instill into everything that we do. They are grace, excellence, and hospitality. I have found, in my 15 months of being a part of this community, that the people of St. Philip's work diligently to welcome all who enter here. We strive to make everyone feel loved and appreciated – especially the stranger. We truly are a welcoming, loving, and affirming community, regardless of one's place in their life's journey.
As I reflected further on the inscription, I wondered how I might interpret the wording to represent current culture and the ethos of today's Episcopal Church. This is what came to mind:
All are welcome here. We each reflect the image of God. Come as you are!
But what does it mean to "come as you are?" How might Jesus expect us to come to his house, to partake at his table? Knowing how the pandemic has changed our lives, even how we "do" church, "come as you are" might look different now. For a couple of years many have gotten out of the habit of getting up on Sunday mornings, getting dressed up, and getting into the pews. Some watched the live stream at home in their pajamas, some logged in later at a more convenient time, and some got out of the habit altogether because online church just didn't feed their soul. As we have eased out of this pandemic, I believe it is time to resume the habit of getting back to our beloved community and into the pews on a more regular basis. But how does that differ from before – if so much has changed?
I believe Jesus would truly tell you, "Come as you are, I want you to be comfortable in my home" – perhaps because that is how I want people to come to my house and eat at my table. Now, I am certainly not advocating that we show up on Sunday mornings in our pajamas – that just seems awkward! I believe that I am like many other Cathedral parishioners when I say: please, come sit with me, come pray with me, come serve with me, come welcome the visitor and the stranger with me. Please, just come.
Do not adorn yourselves outwardly by braiding your hair and by wearing gold ornaments or fine clothing; rather, let your adornment be the inner self with the lasting beauty of a gentle and quiet spirit, which is very precious in God's sight.
(1 Peter 3:3-4)
Come and be an active member of this community. Your presence here, just as you are, serves as a welcome sign to everyone else and is a manifestation of the inscription on that original sign! It is a message that we are "open for business." We are here to do the good work that Jesus entrusted us to do. We welcome you just exactly as you are. Put on your Sunday best or pull on your favorite jeans and comfy shirt and know that whoever you are, and wherever you are on your journey to God, you are welcome in this place. Welcome home! See you in the pews!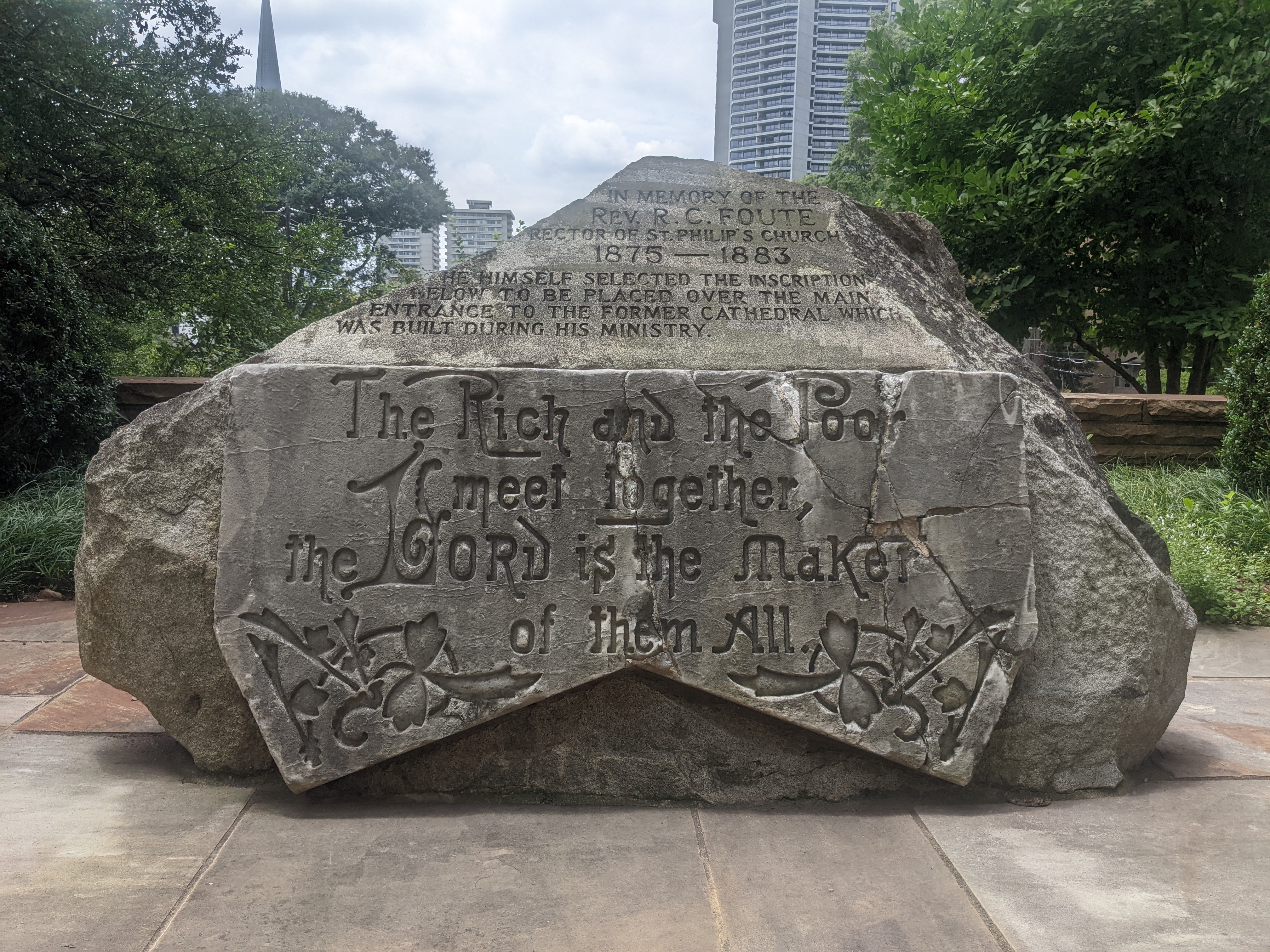 ---