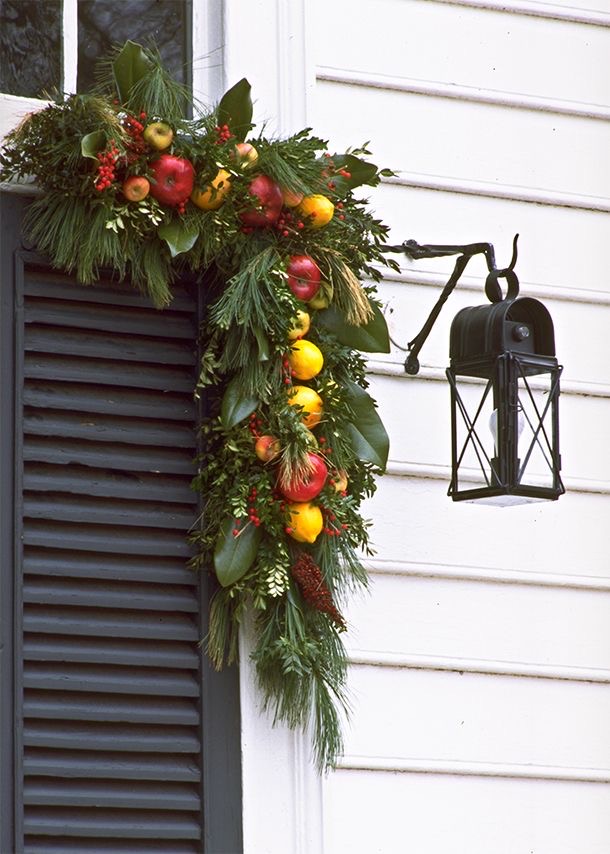 The Cathedral Flower Guild takes great pleasure each Christmas in interpreting the joy of Christ's birth through abundant flowers and greenery. This year's Christmas decor will have an historic look, inspired by the fruited wreaths and lush greenery swags of Colonial Williamsburg, Virginia.
Thousands of visitors come to admire the all-natural arrangements of boxwood, pineapples, citrus fruit, and apples that adorn houses and shops throughout the restored 18th century town each December. The colonists purportedly decorated with materials readily available to them, rather than use "exotic" touches like ribbon or poinsettias. The long-held belief is that they borrowed from nearby fields and waterways to gather native materials like oyster shells, cotton bolls, and dried okra pods to complement the vibrant colors of the fruit.
However, those lush, della Robbia style fruit arrangements did not make their first appearance in Williamsburg until the 1930s, at the height of the Colonial Revival period. Colonial Williamsburg's townsfolk observed Christmas at Bruton Parish Church, which was simply greened with pine boughs. Little or no greenery dressed their homes; imported delicacies like pineapples and citrus fruit would have been too prized to be used as outdoor decoration.
The Flower Guild will dress up the natural Williamsburg look with a few traditional Cathedral favorites. Sparkling Christmas trees and bright red flowers will accompany the fruit arrangements. As we rejoice in the newborn Savior, we will be reminded of God's great bounty. A blessed Christmas to all!
---