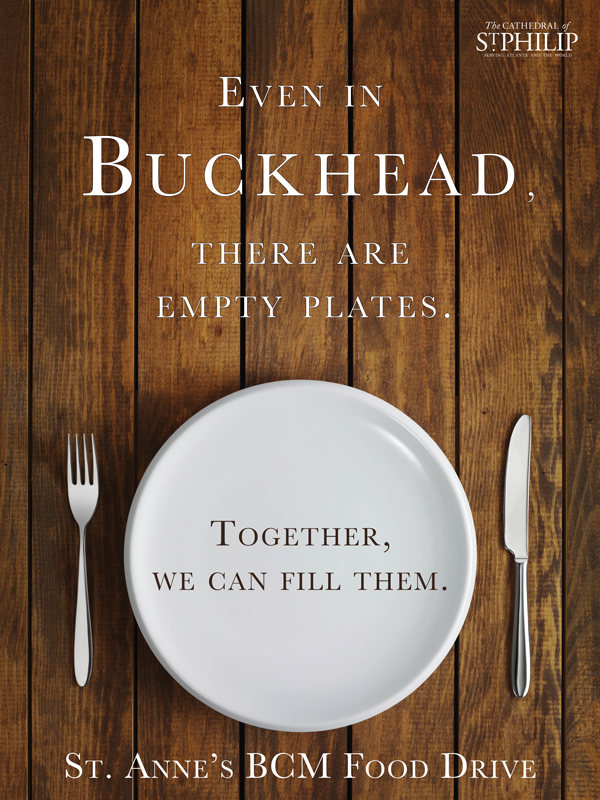 August is food drive month at the Cathedral in support of Buckhead Christian Ministry's client choice pantry. While COVID-19 has caused the temporary pause of pantry operations, BCM's work to assist the working poor in our community is ongoing and more important than ever. Much of its current focus is delivering housing support as clients cope with layoffs and job losses, but food assistance remains a critical need and BCM's reserve funding for the eventual reopening of its pantry is extremely important.
St. Anne's Guild coordinates the Cathedral's semi-annual food drives (in August and February) and cherishes its role as ambassadors for BCM. In usual times, guild members would be stationed in the Atrium each Sunday in August to receive your monetary contributions. In these unusual pandemic times, where Cathedral services and gatherings are conducted online, St. Anne's is asking for your monetary support of BCM.
In 2019, the Cathedral's collective support of BCM's client choice pantry surpassed $10,000 per semi-annual drive. Help us continue this wonderful record - these are extraordinary times producing extraordinary needs. Thank you in advance for your generous support of our neighbors in need!
Your support in August can be made easily by clicking here. Also, the Cathedral will gladly accept mailed checks made payable to "The Cathedral of St. Philip," with "BCM" on the notation line.

---