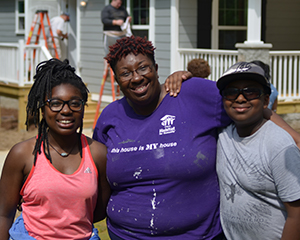 We received a nice note from Sonja Hodges and her children, who are our newest Habitat homeowners. We thoroughly enjoyed getting to know them and helping them build this home and look forward to seeing them again in the future. Sonja is a warm, engaging, and caring person and has clearly done a good job in raising two very nice children. By now, they have moved in and are excited to be enjoying their new home.
Thank you so much for all of your acts of kindness. Thank you to everyone who participated in helping us become homeowners. Without you, we would not have realized that our dreams of home ownership could be a reality. Sincerely, Sonja, Shania, Chrisitan
Many from St. Philip contribute to this great ministry every year on our building and food teams to make a life changing impact for homeowner families and communities. This is a fun and inspiring outreach program. Come join us as we will be building our 30th home in the spring of 2018. For more information, contact John Champion.
---