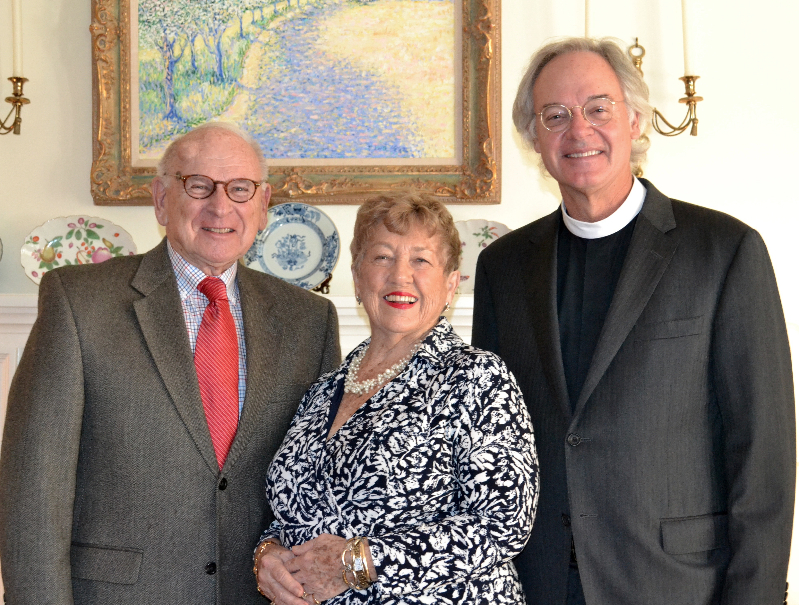 When Kathie and Tom Mahaffey moved to Atlanta 15 years ago and joined the Cathedral, they continued a tradition of personal outreach and service that marked their tenure at five previous Episcopal parishes. Since that time, Kathie and Tom have volunteered with many Cathedral ministries, serving the church, other members, and the community at large.
As a young college student living in DeLand, Florida, Kathie attended a statewide university church conference with her newfound friends from the University of Florida. Riding home, the youth director asked her to visit their Sunday School because she wanted Kathie's participation and to introduce her to a young man who wasn't able to attend the youth conference. This simple introduction ended up being the gentleman that would win her heart of 61 years, Tom Mahaffey.
After Tom's service in the Navy, the family settled in Jacksonville and then Ponte Vedra Beach, Florida. In Florida, they supported the Children's Hospital Antiques Show, the Fine Arts Forum, the Children's Museum, the Arts Assembly, and advertising and public relations professional associations.
Tom was working with a real estate property management company and on several large projects, when he and Kathie decided to slow down the pace of their lives.They thought of moving to Boston to be closer to where their daughters, Beth and Anne, were living. With dreams, ideas of travel together, and an empty nest, they moved there and reinvented their lives, opening a garden and home accessory shop in the heart of historic Boston.
As their girls put down roots in Atlanta and began having children of their own, they felt a pull to be closer and provide support to their family. After a short time back in DeLand, they began visiting their daughters Jill and Anne in Atlanta and attending the Cathedral with them. Fellow parishioner Edyth Shadburn suggested they go to the parish retreat at Kanuga. After a weekend with family and meeting new friends, they made the decision to join the Cathedral and live permanently in Atlanta.
Kathie and Tom have been a quiet force of strength at the Cathedral since they arrived in 2000. They started teaching Sunday School, and in no time, they were teaching during Week of Wonder and the Kanuga parish retreat, polishing brass in the Nave, and working at the Cathedral Book Store. Both participate in the Dean's Bible studies, share hospitality and fellowship through Foyers, and beautify the Cathedral campus with the Garden Guild.
Outreach ministries that benefit from Kathie and Tom's dedication include the Antiques Show, Habitat for Humanity and St. Veronica's Guild. They also serve the Atlanta community through the Atlanta Symphony, Lifespan, the Atlanta Preservation Center, and Kathie's garden club.
With 15 years of involvement at the Cathedral, they have invested their time and their heart into this place of worship. They bring joy to any endeavor they encounter, and build camaraderie with others along the way. Their combined smiles light up a room and their simple, quiet way of just getting the job done helps motivate others to take on volunteer projects with them.
Tom and Kathie continue to lead faithfully at the Cathedral. This service to the church, the community, their families and a lifetime of faith commitment makes them a perfect choice as honorary chairs of this year's Antiques Show. The 2016 Cathedral Antiques Show is proud to recognize Kathie and Tom for the quiet but dedicated way they put their lifelong faith into practice.
---