Susan Troutman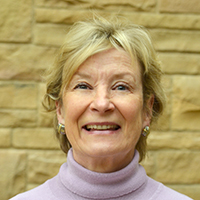 Other family members at the Cathedral: husband, Frank, and son, Fielding, 28. Frank grew up at the Cathedral. Fielding was baptized as an infant, confirmed and married his wife, Kelly, at the Cathedral in January, 2013. Frank's oldest daughter Lee, 57, (from Louisville) was baptized at the Cathedral.

Member of the Cathedral since: 1984

From: Susan was born in Atlanta, but grew up in Augusta, Georgia. Originally a Methodist, Susan was confirmed in the Episcopal Church prior to marrying Frank. They attended and were married at St. Paul's Episcopal Church in Augusta, before moving to Atlanta.

Profession: Susan is a RN who has more than 25 years of nursing experience. She trains and supervises caregivers for Home Care Assistance Atlanta. Cathedral parishioner Triff Cook is the director of client services. Susan said, "The primary goal of our business is to help people stay healthy and independent as they age. It's is a great concept. I love my job. It's so much fun, and it's rewarding. We're regulated by the state, and I'm responsible for visiting clients who may be college-age or 100 years old. Our challenges are hiring really good caregivers, matching them up with clients, and making sure clients receive excellent care. I take my job very seriously.

I am telling everyone to buy long term care insurance. The "silver tsunami" is upon us! [The term refers to the "baby boomer" generation entering their senior years. In the US, 10,000 baby boomers turn 65 years old each day.] In 2010 there were 53,364 centenarians, people 100 years old or older, in the United States. In 2050, there will be approximately 600,000. Who will take care of these people? It's not that we won't have clients; it's that we won't have caregivers. It's pretty amazing. People are living so long.

My profession has led me to spiritual places, especially with people who are dying. I've been blessed to be with many people as they were dying. One of my co-workers was extremely sick many years ago. She said Jesus came to her, and told her, 'You're going to be fine. Don't worry; I'll take care of you. I'm with you.' As a nurse and caregiver I've had many experiences such as these."

On golfing: Susan loves the sport! When Fielding started to drive, she took up golf. She said, "It takes up a lot of time, but it's so much fun. And it's very spiritual for me. I get to spend four uninterrupted hours with one person or more. I love my girlfriends with whom I play golf. We're all very close. I don't talk to them every day, but when we play the game, we're best friends. It's my favorite pastime."

For almost a decade Richard Perry and Susan organized the Cathedral's Open Golf Tournament at the Ansley Golf Club. Proceeds from the golf games helped support the Capital Campaign.

Other Cathedral activities: Susan has served as co-chair of the Tour of Homes for the Cathedral Antiques Show, and as a member of the Cathedral Towers Board, the St. Anne's Guild, the altar guild, the capital campaign committee, the stewardship committee, and as a Sunday school assistant. She said, "I taught Sunday school one year. That was so scary. I am not a teacher. I assisted Bill Craighill and Bill Anderson. I'd break out in a cold sweat when I had to lead the class. It was awful! And Fielding was one of the children in the class. But the children didn't care. They were little. They loved the class."

In 2005 Susan and Frank and other parishioners volunteered to help with a large yard sale in Child Hall to benefit Hurricane Katrina victims. Susan has also volunteered with the Peachtree-Pine Shelter ministry and the women's jail ministry.

Favorite Bible passage and hymn: "Be anxious for nothing, but in everything by prayer and supplication with thanksgiving let your requests be made known to God." Philippians 4:6. Susan said, "I love Amazing Grace because that's the kind of hymn I grew up with in the Methodist church."

On life at the Cathedral: "We always sit up front on the right side in the nave. When I was pregnant with Fielding, I remember looking at the stained glass image of Jesus on the cross. It is comforting. I look at it every Sunday I attend church. Even though the Cathedral is cavernous, there's something wonderful about that space. You feel like you're in Europe. It's beautiful.

We have fabulous priests. They're such a diverse group and everyone has a gift to offer. Sam Candler is such a great teacher. I don't always understand what he's saying, but I think he's amazing! And the Lenten series with Tom Key last year was incredible.

I remember when 9/11 happened, I was at the Peachtree Golf Club. I had never played golf with this person before. Her husband worked for Coca-Cola. We had just met, we played nine holes and had just made the turn on the course and it was on the news that the World Trade Center had been attacked. When we realized what had happened, she left. I came immediately to the Cathedral. It was so consoling to have a place like this to come to. I love our church. I love the people here.