Sam Bondurant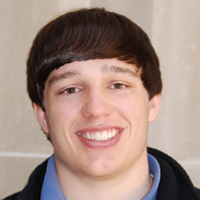 Name: Sam Bondurant

Other family members at the Cathedral: Father, Ward; mother, Mary; brother, Jack; grandfather, Bill Williams; grandmother, Stanley Williams

Membership: baptized at the Cathedral in 1993; returning member in 2004

Neighborhood: born in Atlanta, his family lives off West Paces Ferry Road, near Pace Academy

Education: Sam, who will be 18 in May, is a senior at Westminster. He's a member of the cross-country and wrestling teams, and received a varsity letter for wrestling. Sam films and edits videos for the student-led broadcasting system at Westminster, WCAT. Watch his videos of sporting events: http://www.ghsa.tv/westminster

Cathedral activities: Sam is a Senior Acolyte Captain. "I'd like to give a plug for the acolyte program at the Cathedral. It's a fantastic way for 6th graders, junior high, and high school students to get involved. You meet new people and make friends. Now that I'm an acolyte captain I reflect more on who might be affected by the acolytes' actions during a service. Acolytes do a good job without being showy. In fact, it's a good thing if people don't notice us or comment on our actions. I enjoy playing a role in the service. It's fun."

Other comments: "I like walking out of the Cathedral at the end of the services on Sundays and seeing all the priests greeting people. The accessibility of the priests is unique and comfortable, and it helps create a feeling of community."