Lisa Williams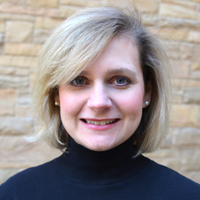 Other family members at the Cathedral: Husband, Brian, and their three daughters, Wagner, 11, Sarah Jane, 8, and Adelaide, 4.

A Cathedral member since: 2000

From: Shreveport, LA. Lisa was raised as a Southern Baptist and attended Louisiana State University in Baton Rouge, LA. After graduation she moved to Memphis, TN to work as a bank auditor at Price Waterhouse, where she met Brian. They moved to Atlanta when Brian transferred to work in mergers and acquisitions at Price Waterhouse.

What brought you to the Cathedral? "Friends. When Brian and I first moved to Atlanta the only people we knew were members of the Cathedral. After we visited, Emile Fisher called us to serve as ushers. We became ushers and then got more involved in other activities, too."

Cathedral activities: past Stewardship Committee member (with Brian), Sunday School Chapel volunteer, and Week of Wonder leader. When Lisa was the president of the 2008 Episcopal Church Women (ECW) she helped organize a lecture series called "Women, Faith and Philanthropy." She remembers her early involvement with ECW, "After Wagner was born, I attended a St. Monica's Guild meeting. I thought I had volunteered to bring snacks to the next gathering, but I really signed up to lead a book study class! When I was president, I used Emile Fisher's volunteer recruiting tactics; whenever I saw a baby's baptism announced in the Cathedral Times, I invited the mother to be a member of St. Monica's. As a former Baptist, I don't hesitate to ask people to get involved. I'm also comfortable praying out loud, which helps when leading church meetings. Canon George Maxwell once said, "˜Every Episcopal church needs a reformed Baptist.' I'm proud of the St. Monica's Guild because it's nurtured leadership skills in young women at the Cathedral. Members have served on the Chapter and have become leaders of other groups."

Profession: Lisa worked for the Zeist Foundation and the R. Howard Dobbs, Jr. Foundation. Currently she is the Executive Director of the Sara Giles Moore Foundation, supporting visual arts, cultural organizations, healthcare and numerous projects serving the underserved in metro Atlanta. Lisa says, "I enjoy the variety of my work with the Moore Foundation. One day I get to see a 4000-year-old mummy's sarcophagus being opened for the first time at Emory's Michael C. Carlos Museum and the next day I'm having lunch and talking with a homeless woman about her goals in life. It's all interesting and rewarding."

Favorite moments at the Cathedral: One year, Wagner was Mary, Sarah Jane was an angel, and Addy was a sheep in the Christmas Pageant. Andrew Wilkerson played a shepherd and he herded Addy to be close to her sisters, keeping the sisters together.

"As president of the ECW I had the privilege of standing with Frances Flock as she presented the Antiques Show check to the 2009 beneficiary, Soul Changers. I stood with tears streaming down my face in awe at the work the women of the church had put forth. I give money away for a living and this was by far the most meaningful check I witnessed being presented."

Favorite Biblical passages or prayers: "When Brian and I experience tough times we recall the passage from Jeremiah 29:11-14, "˜For surely I know the plans I have for you, says the Lord, plans for your welfare and not for harm, to give you a future with hope. Then when you call upon me and come and pray to me, I will hear you. When you search for me, you will find me; if you seek me with all your heart, I will let you find me, says the Lord, and I will restore your fortunes and gather you from all the nations and all the places where I have driven you, says the Lord, and I will bring you back to the place from which I sent you into exile.' We also like Matthew 19:26, "˜With God all things are possible.' I'm fond of something Canon John Mark Wiggers said every day during Camp Edge, the 2009 Week of Wonder; "˜God is with you all the time.' That's a comforting reminder for both children and adults."