Jacqueline Baños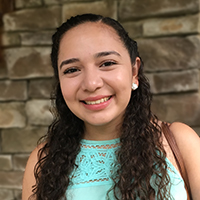 Jacqueline Baños has been a member of the Cathedral since she was 7 years old. Jacky and her family attend La Santa Eucharistía, the Cathedral's Spanish-language service. She is now a sophomore at George Washington University in Washington, D.C. Dan Murphy, director of communications, recently sat down with Jacky to talk about her experiences.
How did your family get to the Cathedral? "Well, I was born in New York but pretty much grew up in Atlanta. We attended Padre Isaias Rodriguez's other church in Norcross, and when he came to the Cathedral, we followed him—and then we stayed! [Padre Rodriguez is the retired Hispanic Missioner for the Diocese of Atlanta.] The Hispanic part of the Cathedral congregation used to feel like a very distinct community, but I think that moving the time of the service from 1:30 p.m. to 11:15 a.m. was a good idea! We are more integrated with the rest of the congregation now."
How did you serve at the Cathedral? "I was an acolyte, and when we were a little short-staffed I was a thurifer, and even sometimes helped with serving the Eucharist. I did whatever they asked me to do! It was a lot of fun.
I'm very glad that we grew up at the Cathedral because I wouldn't have had this summer job opportunity at Emmaus House otherwise. And, I've had our priests write me recommendations for schools and jobs. It feels like an addition to our family. There are a couple of families who have been going to the Cathedral as long as we have. There are a lot of new faces though!"
The job you mentioned, as a Freedom School servant leader intern at Emmaus House, what was that like? "The kids were great. It was really challenging. I've worked with kids before but not in that setting. It was really fun though! It was a good learning experience for me.
We spent the last week of the summer at Camp Mikell, which was a lot of fun. It was so beautiful! It was my first time up there. I was telling my mom that we should send my 10-year-old sister up there for summer camp next year. The Emmaus House campers got to experience something outside of their normal environment. We took the middle school campers to the waterfall, and groups were rotating around with different activities—teambuilding, outdoor games…and the pool! They swam three or four times a day! They always had more energy to swim!"
What did you learn at Emmaus House? "Last year at school, I took a class called Poverty, Place, and Race, about social and economic justice in inner city neighborhoods. My experience with Emmaus House helped me solidify what I want to do as far as my major and my career. I don't want to be a teacher! But it was really eye-opening to see the difficulties in low-income neighborhoods, especially health issues. So I want to major in public health. We would provide breakfast and snacks for the kids, but I could see how malnourished some were. It was really heartbreaking. I can't do very much for them financially; I'm just a college student. But in the future I would like to continue helping disadvantaged communities."