George Watson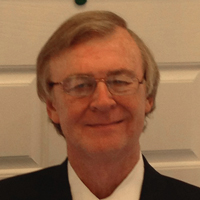 George Watson has been a member of the Cathedral since 2006. Christie Jennison, Program Coordinator for Membership and Stewardship, recently sat down with George to talk about his experiences at the Cathedral.
George grew up in Charlotte and earned his engineering degree at North Carolina State University. He started working in Richmond soon after and also began an MBA program in finance at the University of Richmond. After relocating to Atlanta for a job, he finished his finance degree at Georgia State.
What brought you to the Cathedral?: George attended different Presbyterian churches, and his wife, Charlene, grew up Baptist; but they were both always interested in the Episcopal Church. George's first exposure to the Cathedral was on his date nights with Charlene. They would often go to Fellini's for pizza and then see a movie at Garden Hills Cinema. On many nights, they sat across the street on the patio eating pizza and wondered what the Cathedral was all about. George and Charlene finally made their membership official in 2006 and have both been very active since then.
Church activities: George particularly likes ministries that bring people to the church, that give them a glimpse of Christ. He is a member of the Chapter; is on the board of directors of the Book Store, the Thrift House, and Friends of Cathedral Music; volunteers on Sunday mornings as a lector, intercessor, and greeter at the Information Desk; works with the Garden and Flower Guilds; has been very active in helping with the Antiques Show; takes communion to parishioners as a Eucharistic Visitor, which he attributes to his wife's passion for mission and outreach; and uses his wide range of historical knowledge as a tour guide. George says he "derives enjoyment and benefit from all of them."
Sunday routine: Despite their fairly long commute from Cumming, George, Charlene, and their granddaughter EmmiRose love spending Sundays at the Cathedral. They bring muffins and enjoy coffee in the Atrium with other parishioners before the 8:45 service starts. After service, George posts himself at the Information Desk so that he can answer any questions, direct new people, and greet everyone who passes by. He and Charlene usually attend the Dean's Forum or Old Fashioned Sunday School while EmmiRose is in her youth Sunday school class, and then head back to Cumming for a relaxing Sunday.
Favorite moment at the Cathedral: Throughout his life, George has always enjoyed learning and sharing the history of old buildings and cities, something he utilizes as a tour guide. One of George's favorite moments at the Cathedral comes when he is giving a tour: upon opening the doors to the Nave for those who have never seen the inside of the Cathedral before, George can always hear an audible gasp, a "wow," or an exclamation of how magnificent it is. He says that moment is definitely the "wow factor" of the Cathedral.
What the Cathedral does well: "There are many things!" Those that stand out to George are "the services and liturgy, the music program, the community outreach and support activities, and the communications and social media." He is impressed by the Cathedral's ability to provide whatever its parishioners need. "If you want to come here and not be bothered and go to services and worship and pray and leave, you can do that. And if you want to get involved, there are many opportunities for that." George also praises the fellowship and the community that the Cathedral provides. He appreciates the support of the clergy and is thankful for the "wonderful friendships with parishioners and staff that I have made while being involved in such a variety of activities."