Fred Rose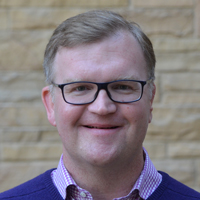 Fred Rose has been a member of the Cathedral since 2003. Christie Jennison, Program Coordinator for Membership and Stewardship, recently sat down with Fred to talk about his experiences at the Cathedral.
Fred grew up in a Baptist church in Charleston, South Carolina, where he was very active in the choir and the youth program. He attended Furman University, his curious nature and love of learning leading him to study history and political science. Fred was an active participant in the university's major chorus group, the Furman Singers. After graduation, Fred moved back to Charleston, used his historical knowledge to be a tour guide for Carriage walking tours, and joined the choir with his sister at Grace Episcopal Church. He came to Atlanta in 1999 for a job with McGraw-Hill.
On coming to the Episcopal Church: Fred's first exposure to the Episcopal faith came while he was spending some time with his godmother in Connecticut. "I was sleeping in a room right outside the library, and I went into the library and was captivated by a little red book: the Book of Common Prayer. I opened it up, and I found the collects and the intentionality and the different order of services quite comforting." From then on, he was interested in the Episcopal faith.
On finding the Cathedral: As a young teenager in Charleston, even before becoming an Episcopalian, Fred watched a broadcast of the Cathedral's Christmas Eve service on TV. He remembers this moment as his first introduction to the Cathedral's wonderful music. Years later at a Furman Singers reunion in 2001, Fred met Cathedral Choir member and fellow Furman Singers alum Brenda Pruitt, who told him he should sing at the Cathedral. He started by attending Evensong services, feeling drawn to the prayerful music and the tradition of the services. Fred soon joined Cathedral Choir and Schola, the Cathedral's auditioned chamber choir.
Church activities: As a Cathedral Choir and Schola member, Fred is sometimes at church from 8 a.m. to 5:30 p.m. on Sundays, taking a lunch break with friends from the choir. But he doesn't mind, because he really thinks "this is a great place to be on Sundays!" With the choirs, Fred has had wonderful opportunities, including trips to England and Ireland, and describes the choir as a second family. "It's really a testament to the quality of our choir that we're able to sing in churches like Westminster Abbey. We have to audition with a sampling of our music, and it's very difficult to get in to sing there. And we've been invited back; they said we're welcome back, because we're one of those choirs who can perform beautiful Christian liturgy to the standards of Westminster Abbey." In addition to his devotion to the music program, Fred has a love for the homeless ministries and the Spiritual Formation and Nurture Committee. He enjoys sharing his faith journey and helping others through their own.
Outside the Cathedral: Fred is the marketing and business development manager at Marcia Weber Gardens to Love. His outgoing personality is a wonderful asset, as he handles most client relations.
On the Cathedral: "The Cathedral is really what you make of it. You have to come in and try different things and find where you fit. That's what I love about the Cathedral – everyone fits here, everyone is welcome in the pews. The Cathedral is a place of vitality and life, of welcome, of grace and hospitality and nurturing. It's a place where everyone can feel safe to worship and learn and serve. The Cathedral is a living city; there is something going on constantly, which is very happy and encouraging. I'm so thrilled that our church can offer the opportunity to touch and to be an offering to so many people, both here in Atlanta and in the world at large. It truly is a blessing."