Ford McClure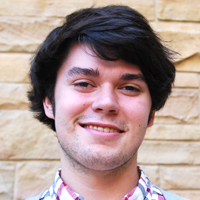 Cathedral member since: birth, in 1992. Ford celebrated his 19th birthday on Friday, May 6.

Other family members at the Cathedral: father, Alan, mother, Jenny, brother, Andy, and sister, Tippa

Neighborhood: Brookhaven

Education: Ford graduated from The Westminster Schools. Currently he is a freshman at Birmingham-Southern College in Alabama. His major will probably involve music and business. Ford plays guitar, drums, bass, keyboard and piano. He also writes music.

Cathedral activities: Ford was and still is involved in the youth program as a guitar player and as a leader. He has led small groups on several youth trips including the retreat to Sewanee,TN in April 2011.

Favorite memories at the Cathedral: "I loved the Youth Ski Retreats and the Mission Trips. One of my favorite mission trips was to Fort Worth in 2009. We worked in the Union Gospel Mission which was featured in the book "Same Kind of Different as Me," [by Ron Hall and Denver Moore]. We cleaned up rehab areas and wiped down beds. The youth group led six services for the homeless. I remember that Christine Fisher gave a sermon "All-the-Time-Faith" that focused on her dog. After the service a homeless woman came up to Christine and asked for a copy." (Christine's sermon and all youth sermons are posted here.)

Other comments: "Some of my best friends live 40 miles away from my neighborhood and go to different schools; I would never have met them if it hadn't been for the youth program. Like anything, getting involved might be scary at first, but if you give it a little bit of time you'll make friends."

Editor's Note: Ford helped with communications at the Cathedral during the summer of 2011. He created and wrote the score to a Cathedral youth slideshow; view it here.