Emile Fisher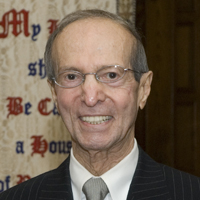 "It is a heart-warming pleasure to accept this invitation to introduce myself to my beloved members and staff of the Cathedral of St. Philip. I became a member in 1962 because I was seeking a church that could and would bring me closer, nearer and dearer to my Precious Savior Jesus Christ! He has never let me down and I know He never will. He is my God and I am His son forever and forever. Amen!"

Family history: "My parents were immigrants from the Middle East, from the country of Lebanon. They worshipped in the Eastern Orthodox Church before they came to the United States. My parents did not know one another; their siblings arranged their move to America. Dad went to Wilmington, NC to work with his sister's husband in a merchandise store. Mother, at age 15, came to live with her brother's family in Troy, NY. She did not speak English very well since she only had a grade school education. She met my father twice before they married and settled in Wilmington in 1920. She was 16. I was the eldest son and I had four siblings."

Education: "I studied business in high school, but we were poor so I had no hope of going to college. But when World War II began a lot of jobs were created in Wilmington's shipyard. I got a job at the shipyard for $2 an hour, often working 80-hour weeks. My parents told me that I could live at home to save money for college. I worked like a Trojan for six years and my mother saved every check I earned from the shipyard.

Finally I had enough money to go to Wake Forest University in Winston-Salem, NC. After graduation in 1948, I came to Atlanta to attend dental school at Emory University. I made good grades. When I was about to graduate, the dean of the dental school asked if I wanted to specialize in a particular area of oral health. I wanted to go into periodontics, but I had no money for future study. The dean said, "Don't worry about money now. I'll help." He called the dean at the Northwestern University School of Dentistry in Chicago and within three months I was at Northwestern. I pursued my post-doctoral education in periodontics and worked every evening to pay expenses. I returned to Atlanta to start my career because I had made medical contacts at Emory. I also taught at Emory and the Medical College of Georgia. "

What brought you to the Cathedral? "When my siblings and I were growing up my mother was concerned about our religious life. Since there were no Eastern Orthodox churches in Wilmington, a neighbor took us to the Baptist church. Once, when I was a teenager, a Lebanese visitor staying with us wanted to go to the Episcopal church. I knew nothing of Anglican worship, but I took her. I was impressed with the ritual of the Episcopal service and I now know God planted the seed that my life was to take. Later, when I moved to Atlanta, my life was going well except for my absence from a permanent spiritual life with Jesus. This was of concern""great concern""I needed God all the time, then and now. Then I met Cathedral member Al Webster at a cocktail party. I told him I was trying to decide on a church to attend, but I didn't know much about them. Al said, "Tonight is Saturday. I'm going to the Cathedral tomorrow. Come with me." I loved it. I loved kneeling at the altar. I felt at home."

How did you become involved with the usher ministry? "Shortly after my confirmation in 1962, Dean Alfred Hardman invited me to be an usher. I became a team captain and in 1992 I was named chief usher. I'm known as the "hugging usher." I hug strangers, members, older people, and younger folks. Jesus calls children to gather around him and there's nothing closer to God than the human touch.

When I see new members' names published in the Cathedral Times, I call and invite them to become ushers. It's a wonderful way to become involved in the church. Today we have more than 350 ushers. I love it. I remind ushers to always receive visitors warmly. Ushers are a welcoming committee; they are the first people visitors encounter."

What are some of your other activities? "Four or five years ago Dean Sam Candler asked me to take on another job; to select element bearers. I ask a couple to carry the wine and host to the altar. I often ask visitors to be element bearers so that they may participate in the service."

Emile has served on the Stewardship Committee, the AIDs Task Force, the Worship Committee, the Endowment Board of Trustees, the Friends of Cathedral Music, the Chapter, the Outreach Grants Committee, the Chapter Nominating Committee, the Soul Changers committee, and was the honorary chairman of the 2007 Cathedral Antiques Show. Since 2003 he has sponsored the Emile Fisher Concert at the Cathedral. He is a Knight Commander of the Order of St. John of Jerusalem.

Emile also has been a tremendous benefactor to the dental community in Georgia. For 58 years he has provided dental services to the indigent at the Ben Massell Clinic in Atlanta. He funds scholarships at the Medical College of Georgia, Wake Forest University, East Carolina University, Rensselaer Polytechnic Institute, Emory University, and Morehouse College. The Emile T. Fisher Foundation for Dental Education in Georgia has created an endowment of approximately $700,000 and provided more than $360,000 in scholarships. In 2007 he received the Vessel of Life Award, the highest honor given by the Medical College of Georgia, recognizing outstanding service and professional achievement.

Emile says, "I can name nothing that could come near to making my life full of all of God's Blessings, Love, Grace, and Redemption of my sinful soul. Faith is my life and always will be!"