What a Gift
Posted on by Caroline Hipple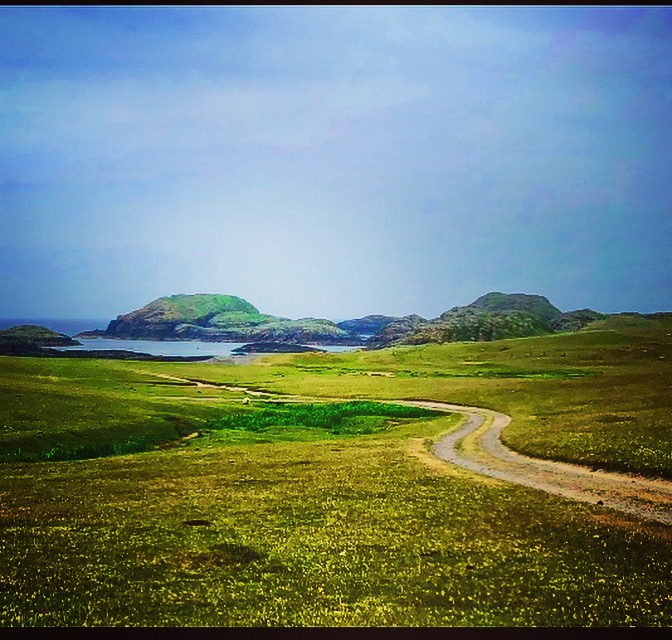 What a gift it has been to have traveled with this intrepid bunch of Cathedral (and other) pilgrims to the western Hebridean island of Iona to spend a week of discernment with John Philip Newell and Ali Newell. I am still unpacking (well, not literally, but figuratively) the lessons and affects from Iona. My reason for traveling a full two days to get there (and then again home) was to deepen my own discernment on my spiritual journey and to listen for guidance inside for how to use my own gifts for this next chapter of my life. I am and have been curious about the work of Celtic Christianity, its focus on the goodness of God and creation in all of us and its emphasis on John and Jesus and the Celts as they absorbed and taught the Christian message and how it fits with our episcopal journey today.
As I reflect on the trip and my life since returning, I realize that the gifts from our journey will continue to develop and grow and be realized for a long time as I continue to mine the experience for its lessons, simple or deep. This experience is now entwined in the fabric of my spirit.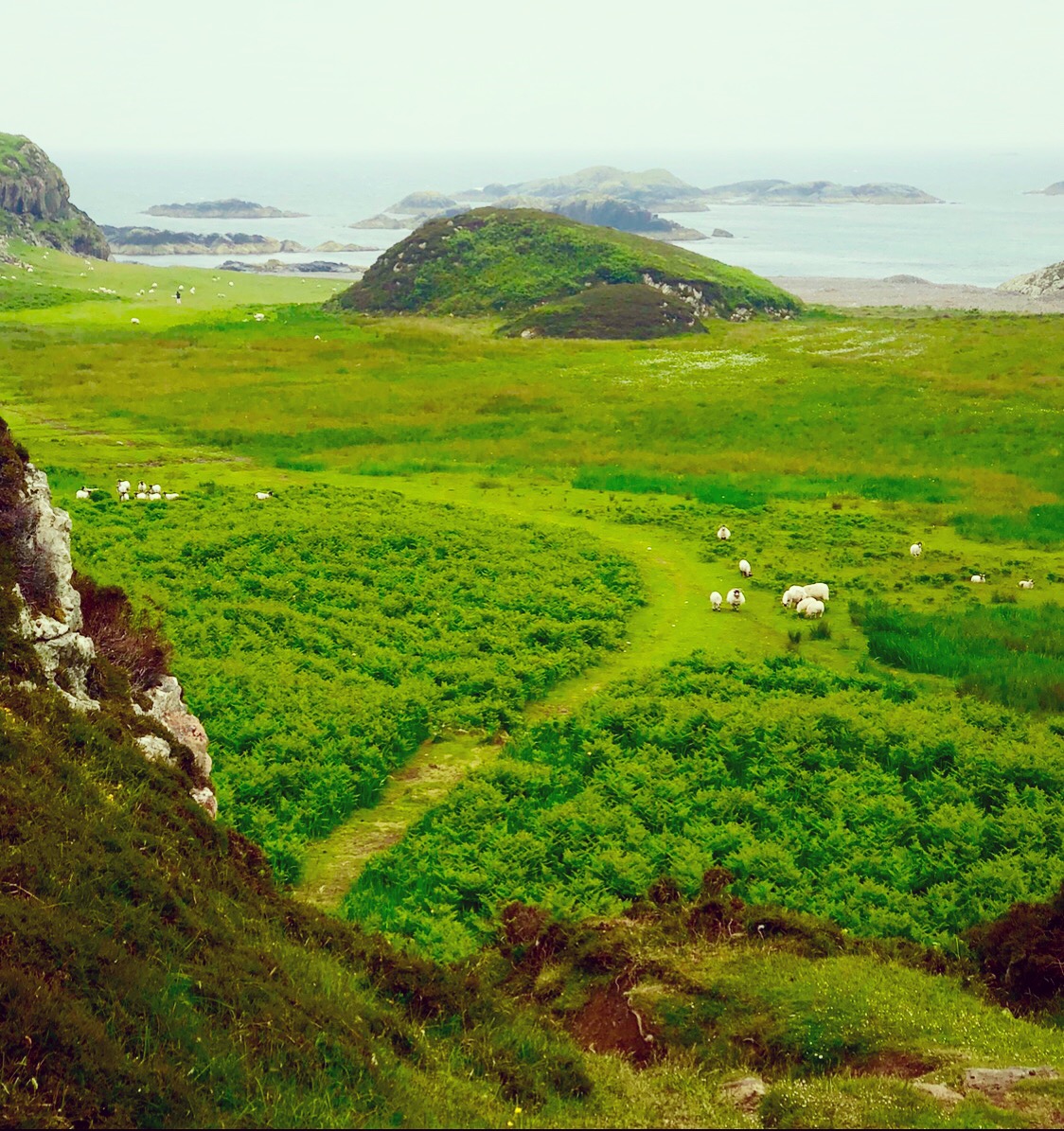 I'll try to share a few of my reflections today.
First, I am grateful for the diversity of spirits that made up our group. This diversity made for such interesting deepening of each sharing or hiking session or meal. We had young and older, wise and seasoned, funny and athletic...all types. Men, women, husbands, wives, singletons. Each of us are at a different stage of our own discernment and journeys and lives and each of our comments or questions added to the enrichment of all of us.
I feel certain that the expertise and leadership in forming the groups added to that special feeling. As did the expertise of our leaders, Ali and John Philip Newell and our Cathedral leaders, Cathy, Carolynne, and Jeannie. The structure of our days included fun and yummy meals; lots of outdoor activity; plenty of silent prayer; and lessons about Celtic Christianity, consciousness, spirituality, and sharing. The teachings included lessons about the goodness of creation and the light in all of us, and the interconnectedness of all of God's creation. Rocks, animals, birds, fish, clouds, men, women. And that our relationships are one way of manifesting that light. The joyous relationships that were nurtured and shared on this 1 x 3 mile-wide and deep island during our week together was evidence of that spirit at work.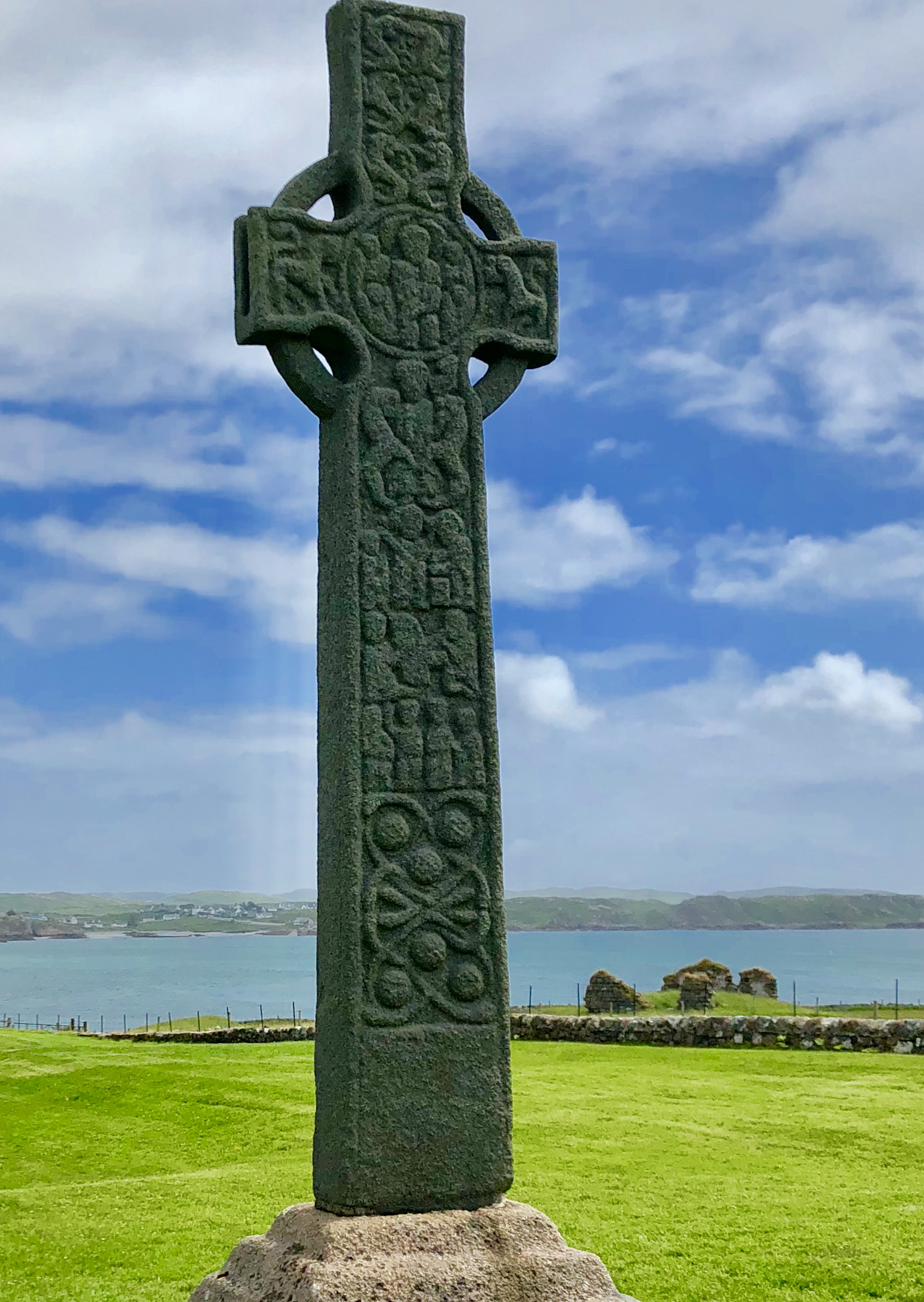 Seeing God in nature and creation is an important aspect of Celtic Spirituality and Christianity. And we certainly spent plenty of time out in the glorious nature of Iona. Feeling the warm sun, the soft breezes or listening to the lapping waves on the shore, or the bleating of the lambs as we explored the island, reminded us of this interconnected-ness. Many of our prayers and activities happened outside...gale force winds, rain, sunshine, warm, cold, dry, hot, we experienced it all...and prayed, shared and laughed the whole way. Again, diversity in nature, and seeing the goodness of God in this creation and being a part of it was an ever-present theme. Oh, did I mention that the internet was nearly out most of the time? That certainly helped us dive right into the solitude and thoughtfulness of the place.
Each day John Philip guided us deeper into understanding the spiritual leaders of Celtic Christianity...from Pelagias in the 4th century, to St. Brigid, to Erugiana, up to more modern day thought leaders like George MacDonald and George McLeod. Using the writings and histories of these figures, he helped us gain clearer insights into the grounding of Celtic Christian wisdom. Firmly anchored in the teachings of Jesus, the apostleship of St. John and the pioneers of early Christianity in Britain, Celtic Christianity weaves in lessons of social justice, reverence of nature, and the goodness of man.
I shall carry with me for a long, long, long time the remarkable sense of light and color and luminosity of Iona. They call it a "thin" place, where there is just a thin veil between time and eternity, heaven and earth. You feel it there, inside, way down deep where your intuition tells you what is true. Down where the goodness and light of God lives inside of all of his creatures. The new word we learned is "liminal," the sense of being on both sides, back and forth of a door ... between here and eternity, intertwined ... you feel it there. "Seek and ye shall find" comes to mind… "knock and it shall be opened unto you"... mmmm? Liminal.
We saw the light of beautiful sunshine in blue skies, the light of stars lit where there is little city light, the light of the moon, the light in each other's eyes, the light of the laughter as our boat captain told us tall tales of Meghan and Harry's yacht, the light of the puffins tending their nests on the hillside of Scaffa. The light of a rainbow (long sought by me) on our final night at our celebration dinner. The light. It will remain with me, as will my white marble stone that I picked up on the beach of St. Columba. We were to bring back a stone as a symbol of new beginnings. I tried to find the whitest one I could, to remind me of that white light on Iona and the light inside each of us, that light of God.
When my friends ask me to explain my experience on Iona, the word for me that comes to mind is deepening, a deepening of understanding and connectedness. I am beyond grateful for the chance to experience this remarkable place with these remarkable people. And this opportunity to deepen my understanding. Thanks be to God! (and to the Cathedral!)
---